Highland Park, TX – December 2019… Serving authentic Tex-Mex food and excellent margaritas, the Mi Cocina restaurant chain is a favorite in the Dallas-Fort Worth Metroplex. Mi Cocina makes an extra effort to stay a step ahead of its competition, including food, service, and décor but also sound systems. "The owners of the company, M Crowd Restaurant Group, are audiophiles, and they want clear, very high quality sound and a flexible system that's easy to use," reports Danny Salinas of AlleyCat AV, who has designed and installed networked sound systems in 23 Mi Cocina restaurants/bars.
Recently Mi Cocina did a massive remodel of its flagship Highland Park Village location, in a high-end section of the Dallas area. Delighted with AlleyCat AV's Dante networked sound systems at two smaller locations, which were based on Symetrix DSPs, the owners brought in Salinas to design and install their new system in the much larger and socially visible Highland Park Village restaurant and bar. "They were blown away by the sound and ease of use of the systems in the two smaller restaurants, and they wanted something similar at Highland Park Village," he relates. "Of course the spaces are different, so the systems couldn't be identical, but they told us to just do what we do, and they'd be happy."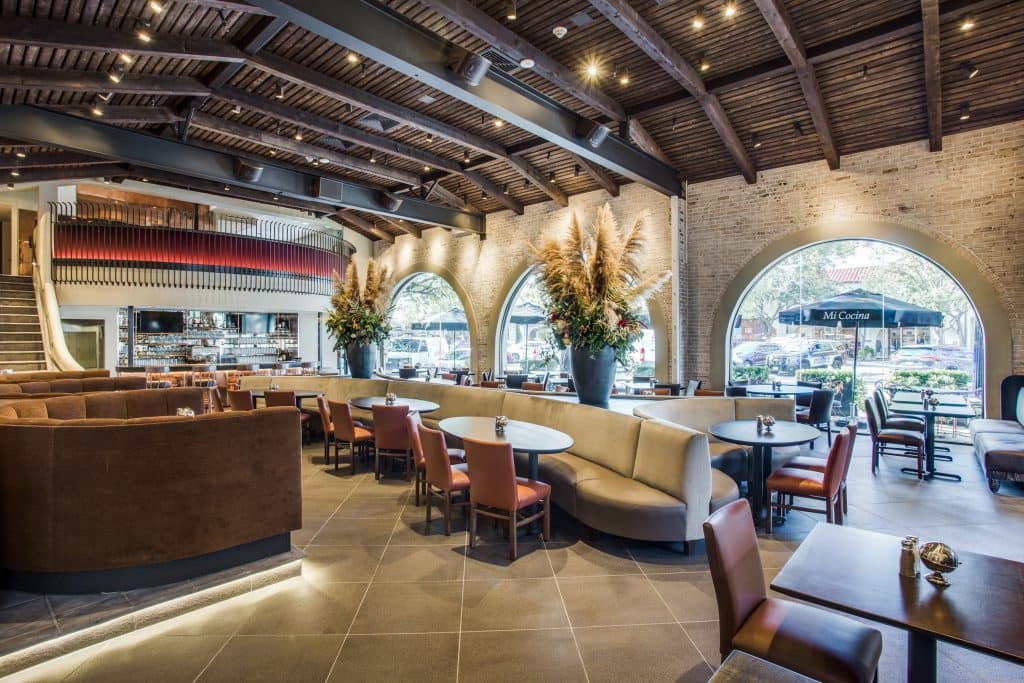 To meet the client's goals of high quality sound, flexibility, and ease of use, Salinas designed a Dante networked audio system managed by a Symetrix Prism 8×8 DSP. A Symetrix xOut 12 Dante-to-analog output expander brought the Prism's total I/O complement to 8 analog inputs and 20 analog outputs.
"The Highland Park location has not been renovated in over 20 years, so they gutted the whole thing and went with all new construction," Salinas reports. "We ripped out loudspeakers that had been there more than 25 years and pulled new wire, including CAT6 cable for the network. It's a three-story restaurant, with a rooftop balcony that's about 100 square feet and has a glassed-in lounge and a bar they call the Monkey Bar. The second floor is a mezzanine with 10 or 12 tables, and they can have a DJ up there who projects out over the first floor below. The first floor is the main dining area and has another bar and a big entry lobby. It has 20-foot ceilings, so I mounted the speakers up high. Also on the first floor is an outdoor patio with seating. With all of that and the bathrooms, we ended up using 10 zones on the network."
To serve the differing needs of the various spaces in the venue, Salinas chose an assortment of speakers, ranging from Tannoy ceiling speakers in the first floor entry to Fulcrum Acoustic loudspeakers with Innovox subwoofers in the main dining room, Tannoy outdoor speakers on the rooftop balcony, and other combinations of speakers elsewhere. The variety of speakers and the multiplicity of zones meant some careful programming in Symetrix' Composer software for the Prism DSP.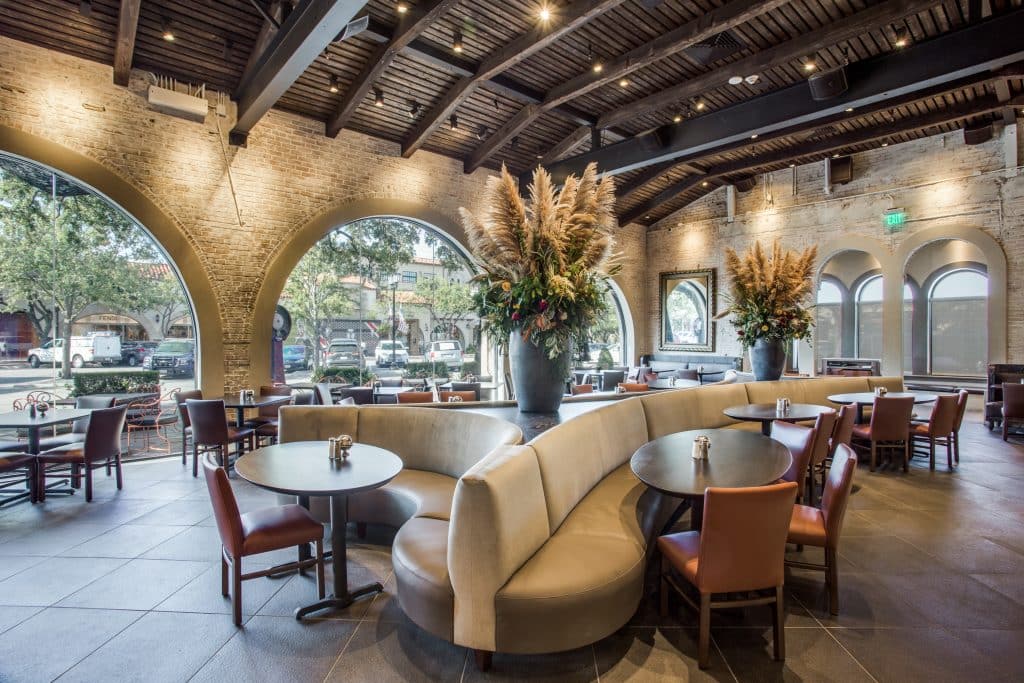 "The programming wasn't complicated but there was a lot of it," Salinas muses. "With smaller speakers in some places and larger speakers in others, some 16 ohm and some 70 volt, I had to carefully adjust every level. With a Symetrix DSP, I have the flexibility to adjust every zone and craft it the way I want it. I used crossovers, duckers, limiters and compressors, and loudness management modules, and every zone has its own EQ. I also had to carefully look at each input and decide where I wanted it to go and how I wanted it to sound."
Before the renovation, the restaurant had two media players for background music. In the new system, Salinas provided dedicated inputs for the two media players and added a DJ input on the mezzanine, along with a line input for a guitarist, as well as an input for plugging in an iPod or similar device. These inputs are wired analog, straight to the Prism processor.
Salinas provided easy-to-use system control with five Symetrix ARC-3 wall panels: one on the third-floor balcony, one in the third floor lounge, one on the second floor mezzanine, one indoors on the first floor, and one on the outdoor patio. He also set up a Symetrix ARC-WEB virtual user interface for browser-based control of the Symetrix system. "The owners want to be able to walk in with their phones and log into the system, and with ARC-WEB they can do that," Salinas explains. "If they want the sound a little louder or something like that, they can easily adjust it."
Future expansion was another consideration. "I chose the Prism with the idea of having room for growth if they want to expand the system via Dante," Salinas confirms. "The Prism 8×8 has all of the capabilities we need, including Dante networking and plenty of analog inputs and outputs; it was a perfect match."
Reliability is a big factor for Salinas, as well. "I have to service a lot of locations with a small company, and I don't want to have to run out to deal with a service problem," he relates. "With Symetrix, I haven't had to do it yet. I've installed a lot of Symetrix DSPs and about 80 ARC-3s, and they always work. They have been rock solid, and they're easy for the customer to use because Symetrix has provided the programming capability to make them that way. Mi Cocina Highland Park rotates managers because it is a training location, and all of the managers walk up to the ARC-3 control panels and use them with no problems. Best of all, the system sounds great. So far, everyone's happy."