Four Zone Casino
Audio System Requirements
4 zones, each with stereo BGM (background music) and wall panel controllers for source selection/volume control.
Support for mobile device control of source selection/volume control in each zone.
2 remotely located page microphones connected to a single DSP processor via a Dante™ network.
Page zone selection using a 4-button wall panel at each page station location.
Programmable automatic page over music "ducking" of BGM in all zones.
Ambient noise controlled automatic music volume adjustment in each zone.
Secure super-user Windows® control screen located in the managers office.
Audio system MUTE ALL function triggered from a fire/emergency alarm system.
Comprehensive loudspeaker management in all four zones to include parametric EQ, high and low pass 48dB/octave filter, comp/liming, delay and mute.
Symetrix Components
| QTY | Description | Notes |
| --- | --- | --- |
| 1 | Radius 12×8 EX | 12 mic/line in, 8 line out DSP (uses Dante network for expansion). |
| 1 | xIn 4 | Analog input expander (uses Dante network to link to DSP). |
| 4 | ARC-3 | Capacitive touch wall panel controller with graphic display. |
| 2 | ARC-SW4e | Programmable 4 push-button wall panel. |
| 1 | ARC-PSe | Power supply for ARC-3's and ARC-SW4e's. |
| 1 | Composer | Windows software – design & configure items 1-5, 7, 8. |
| 1 | SymVue | Windows runtime control interface software – generated from Composer. |
| 1 | ARC-WEB | Embedded control server running on Radius 12×8 EX. |
Solution Overview
| Requirement | Notes |
| --- | --- |
| BGM selection on volume control | An ARC-3 wall panel is installed in each of the four zones. |
| Two paging microphones | The mics are connected to the xIn 4. Page signals transmitted via Dante network to Radius 12×8 EX |
| Zone selection from each page mic | An ARC-SW4e is mounted in close proximity to each page mic for destination zone selection. |
| Ambient level control of music in 4 zones | Radius 12×8 EX programmed with Symetrix proprietary SPL algorithms. |
| Secure super-user control screen | Composer generated Windows file for use by administrative staff only. |
| Fire/emergency audio MUTE ALL | Third-party alarm system logic wired to Radius 12×8 EX external control input triggers a Mute All state. |
| Mobile BYOD browser based control of music source and volume in each zone | Radius 12×8 EX embedded ARC-WEB server is programmed from Composer to control source selection and volume in parallel with ARC-SW4e wall panels in each zone. |
| Comprehensive loudspeaker management | Radius 12×8 EX programmed from Composer with Speaker Manager and Compressor modules. |
| Automatic ducking | Radius 12×8 EX programmed from Composer with Ducker modules in all 4 zones. |
System Hookup Diagram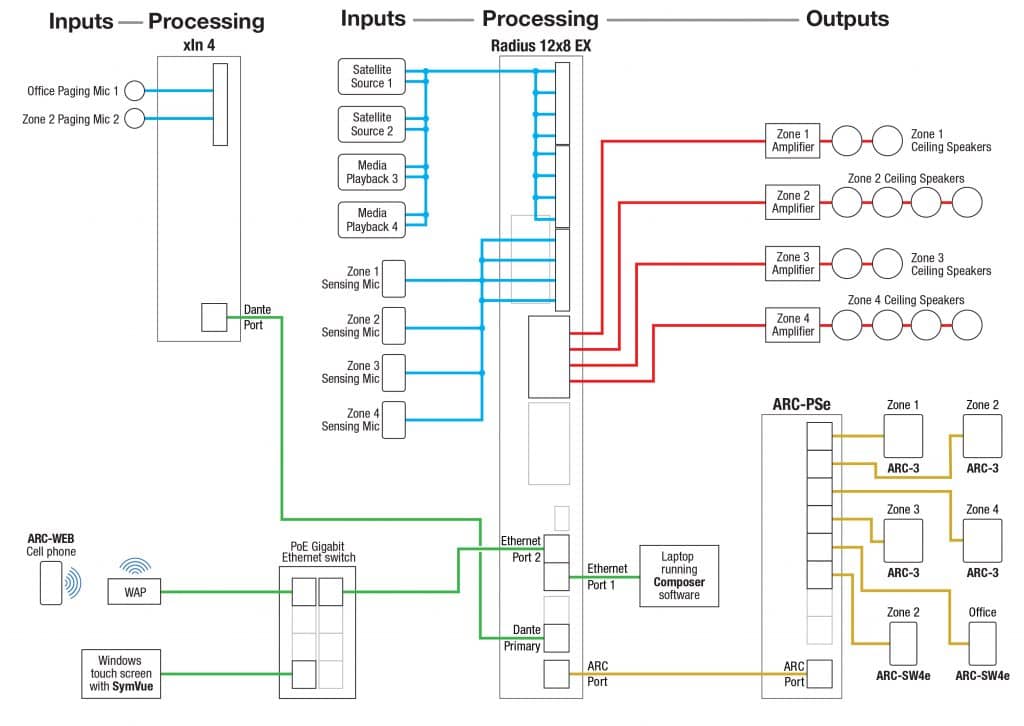 Downloads and Links
Four Zone Casino – Composer Site File
Four Zone Casino – SymVue Windows File
Four Zone Casino – System Hookup Diagram
Four Zone Casino – Download Application Note
Questions? / Comments? – Symetrix Tech Support