Banquet Hall
Audio System Requirements
6 combinable rooms, with 2 mic and 2 line inputs per room.
Combinable audio-mixing of each room's microphones.
8 BGM sources selectable in all areas.
Source selection using wall panel controllers located in each room.
Inputs and outputs for rooms A and B must be connected using Dante™ network.
Support for mobile device control of source selection, volume control and combining for all rooms.
Audio system "MUTE ALL" function triggered from a fire/emergency alarm system.
Comprehensive loudspeaker management including EQ, high and low pass 48dB/octave filters and comp/limiting.
Symetrix Components
| QTY | Description | Notes |
| --- | --- | --- |
| 1 | Prism 16×16 | 16 mic/line in, 16 line out DSP, 64×64 Dante (uses Dante network for expansion). |
| 1 | xIn 12 | 12 channel analog input expander. (uses Dante network to link to DSP). |
| 2 | xIO 4×4 | 4 mic/line in, 4 line out analog expander (uses Dante network to link to DSP). |
| 6 | ARC-3 | Capacitive touch wall panel controller with graphic display. |
| 1 | ARC-PSe | Rack mount wall panel power supply for ARC's. |
| 1 | ARC-WEB | Control interface running on a mobile or desktop device to control audio via an embedded web server running on the Prism 16×16. |
| 1 | Composer | Windows software – design & configure system. |
Solution Overview
| Requirement | Notes |
| --- | --- |
| Room Combining, BGM selection and volume control | An ARC-3 wall panel is installed in each of the six 6 rooms. |
| Rooms A and B connected using Dante network | An xIO 4×4 is used for the inputs and outputs of rooms A and B, connected via Dante network. |
| Mobile BYOD browser-based control of music source and volume in each room | The Prism embedded ARC-Web server is programmed from Composer to control source selection and volume in parallel with the ARC-3 wall panels in each room. |
| Comprehensive Loudspeaker Management | The Prism is programmed using Composer to include Speaker Manager and Compressor Modules. |
| Fire/emergency audio MUTE ALL | Third-party alarm system logic wired to a Prism external control input triggers a "MUTE ALL" state. |
System Hookup Diagram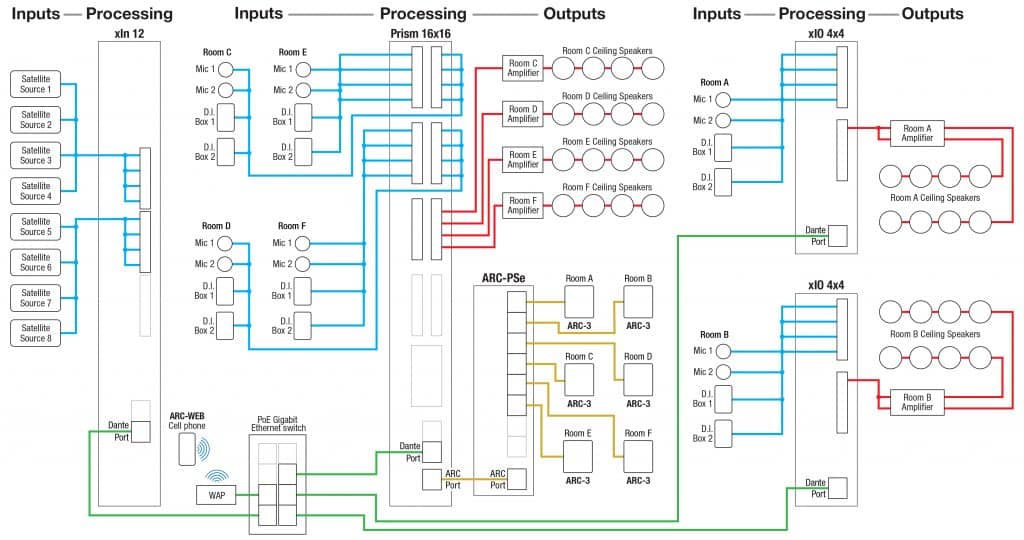 Downloads and Links
Banquet Hall – Composer Site File
Banquet Hall – System Hookup Diagram
Banquet Hall – Download Application Note
Questions? / Comments? – Symetrix Tech Support