Broadcast Studio
Audio System Requirements
Processing for 2 microphones including DeEsser, Expander, Compressor/Limiter, EQ, and Delay.
Stereo processing for Dante™ broadcast feed including Expander, Automatic Gain Control, Multi-band Limiter, EQ, and Delay.
Windows control screen for controlling output volume levels, EQ and compression settings for each microphone, EQ and AGC settings for the stereo line source, and custom presets for individual voice talents.
Symetrix Components
| QTY | Description | Notes |
| --- | --- | --- |
| 1 | Prism 4×4 | 4 mic/line in, 4 line out DSP, 64×64 Dante (uses Dante network for expansion). |
| 1 | Composer | Windows software – design & configure system. |
| 1 | SymVue | Windows runtime control interface software – generated from Composer. |
Solution Overview
| Requirement | Notes |
| --- | --- |
| Comprehensive mic processing | Prism 4×4 is programmed using Composer to include DeEsser, Expander, Compressor/Limiter, EQ, and Delay modules. |
| Comprehensive line processing | Prism 4×4 is programmed using Composer to include Expander, Automatic Gain Control, Multi-band Limiter, EQ, and Delay. |
| Super-user control screen | Composer generated SymVue file for volume control, processing adjustments, and preset recall. |
System Hookup Diagram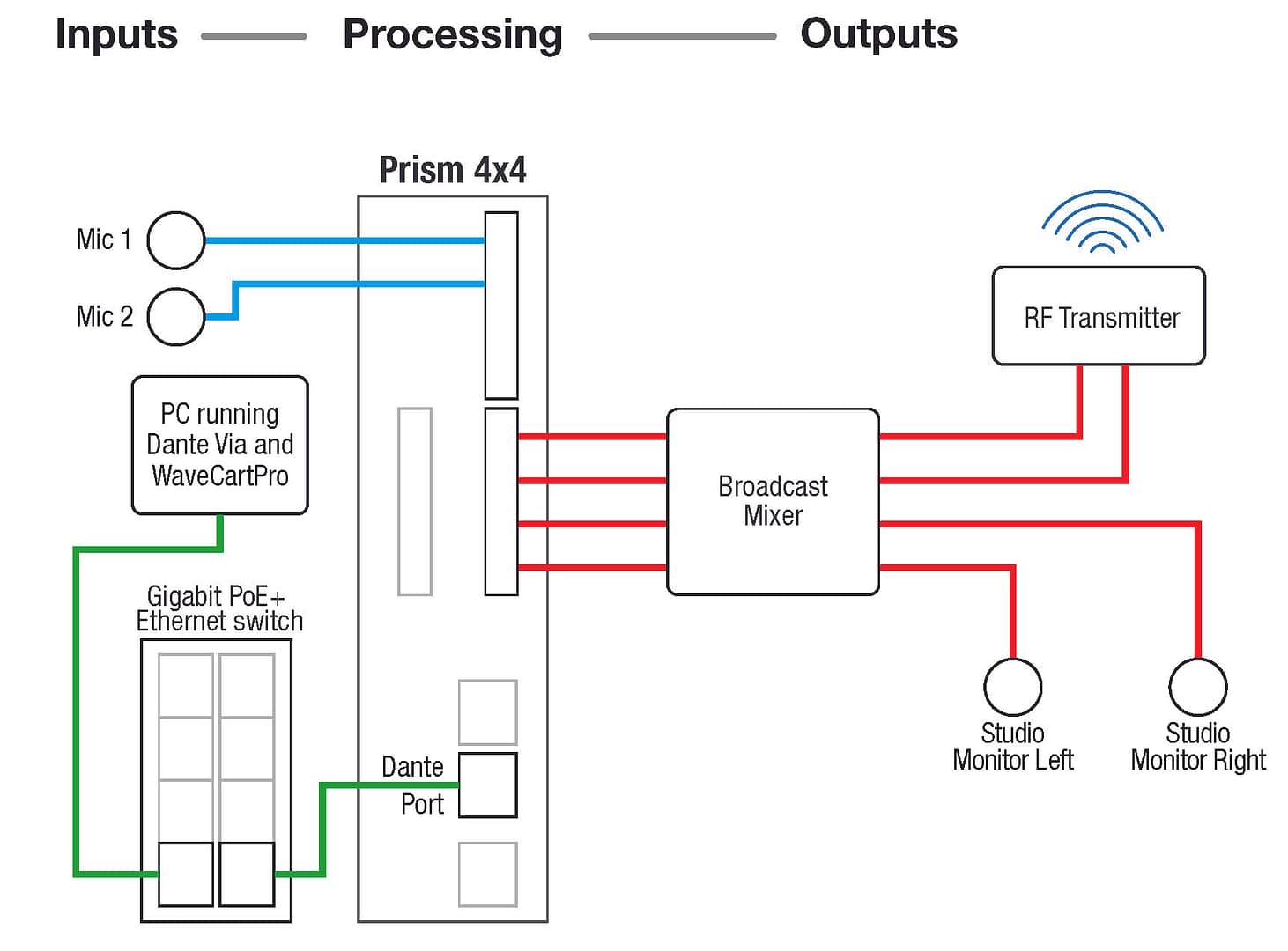 Downloads and Links
Broadcast Studio – Composer Site File
Broadcast Studio – SymVue Windows File
Broadcast Studio – System Hookup Diagram
Broadcast Studio – Download Application Note
Questions? / Comments? – Symetrix Tech Support