Conference Room
Audio System Requirements
AEC applied to 6 microphones to guarantee maximum far-end intelligibility of local participants.
6 Dante-enabled networked microphones.
DSP system support for each microphones' push-to-talk functionality.
Wall panel control of 2 audio outputs feeding ceiling speaker power amps.
Cisco and Asterisk SIP-based VoIP telephony interface.
Support for AJAX/HTML5 standards browser based dialing.
Windows control screen for dialing and volume control.
2 stereo auxiliary line level inputs, e.g. PC output and laptop.
Auto mixing capabilities for both far end send as well as local voice lift.
Comprehensive loudspeaker management including EQ, high and low pass 48dB/octave filters and comp/limiting.
Symetrix Components
| QTY | Description | Notes |
| --- | --- | --- |
| 1 | Radius AEC |  8 AEC in, 4 line in, 8 out DSP, I/O expander card slot, 64×64 Dante. |
| 1 | 2 Line VoIP Interface Card | Cisco and Asterisk SIP-based VoIP plug-in card for Edge, Radius 12×8 EX and Radius AEC. |
| 1 | ARC-K1e | Rotary encoder wall panel controller. |
| 2 | SymVue | Windows runtime control interface software – generated from Composer. |
| 1 | ARC-WEB Dialer | Embedded controller server running on Radius AEC |
| 1 | Composer | Windows software – design & configure system. |
Solution Overview
| Requirement | Notes |
| --- | --- |
| On wall volume control | An ARC-K1e enables control of overall room volume. |
| HTML5 web dialing | Symetrix ARC-WEB browser based dialer can be used by PC's or mobile devices for dialing. |
| Super-user control screen | Composer generated SymVue file for dialing and volume control running on a Windows based touch screen controller. |
| Networked microphones | 6 x Audio-Technica ATND8677 Dante microphones. |
| Push to talk buttons | Composer software facilitates direct integration of the push to talk features of the microphones. |
| Cisco and Asterisk SIP-based VoIP interface | The Symetrix 2 Line VoIP Interface Card installs into the Radius AEC. |
| 2 stereo auxiliary line level inputs | Connect directly to the Radius AEC line level inputs. |
| Auto mixing | A separate Gain-Sharing auto mixer is employed for the microphone signals being sent to the far end and also for local voice lift as required. |
| Comprehensive loudspeaker management | Radius AEC programmed from Composer with Speaker Manager and Compressor Modules. |
System Hookup Diagram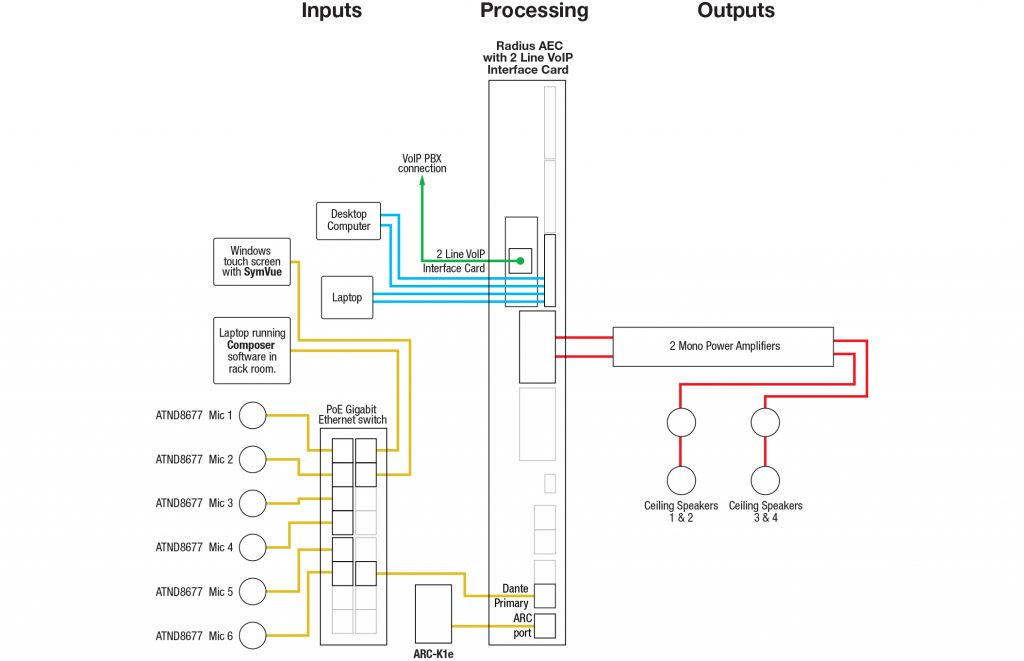 Downloads and Links
Conference Room – Composer Site File
Conference Room – SymVue Windows File
Conference Room – System Hookup Diagram
Conference Room – Download Application Note
Questions? / Comments? – Symetrix Tech Support