Courtroom
Audio System Requirements
Courtroom, analog phone lines and VTC require echo-free audio conferencing among them.
10 gooseneck mics arranged around courtroom connect to DSPs via Dante™ network.
One dedicated sidebar microphone used exclusively for archival purposes.
A bench-controlled "Sidebar Mode" instantly mutes all microphones (except sidebar mic) while routing pink noise into the system for private Sidebar conversations.
5 discrete recording channels ensure a clear trial archive, including: judge/sidebar mics, witness, defense, prosecution and a full courtroom mix.
Secured comprehensive system control from clerk's desk, including mic mix, conferencing levels and instant privacy muting.
Simple controls at the bench, including zone volume, "Sidebar Mode" triggering and privacy mute.
Zone volume controls for both defense and prosecution.
Automatic gain adjustment at presentation podium inputs to handle a wide variety of unknown sources.
Symetrix Components
| QTY | Description | Notes |
| --- | --- | --- |
| 2 | Radius NX | DSP with 8 dedicated AEC channels, 4 Line inputs, 8 outputs and expansion card slot. |
| 1 | 2 Line Analog Telephone Interface Card | 2 POTS lines with RJ11 connectors – fits into Radius AEC card slot. |
| 3 | ARC-K1e | Wall panel with 2 volume controls in the space of one. |
| 1 | ARC-EX4e | 4 push-button wall panel combined with the ARC-K1e to create a Modular ARC. |
| 1 | Composer | Windows software – design & configure all items. |
| 1 | SymVue | Windows runtime control interface software – generated from Composer. |
Solution Overview
| Requirement | Notes |
| --- | --- |
| Echo-free conferencing between all areas | The Radius NX has dedicated DSP processing reserved exclusively for echo cancellation. |
| Ten Dante-enabled mics for full coverage in the Courtroom | Audio-Technica ATND8677 Dante-enabled mic base stations are natively supported in Composer, allowing for seamless integration. |
| The ability to switch between "Sidebar On" and "Sidebar Off" presets | Two presets were created in Composer to toggle between muting all room mics/routing pink noise into system and normal operation. Easily triggered by an ARC-EX4e at the bench and the SymVue panel at the clerk's desk. |
| Uncomplicated controls at the bench | An ARC-K1e + ARC-EX4e combination provides easy-to-understand control over necessary functions from the bench. |
| 5 channels are routed to a recording device for archival purposes (including dedicated Sidebar mic) | Routing/processing is accomplished via Composer's myriad DSP modules. A Gain-sharing Automixer ensures all sources are automatically captured at adequate levels. EQ and additional dynamics processing are in-line and set by the integrator. |
| Secured control of the entire system from the clerk's station | A password-protected SymVue control screen generated within Composer provides full system control. |
| Volume controls for both defense and prosecution areas | An ARC-K1e at each table for zone volume with clear LED level indication. |
| Automatic level adjustment of presentation sources | Automatic Gain Controller DSP modules for both podium AUX inputs help to regulate a variety of presentation input levels. |
System Hookup Diagram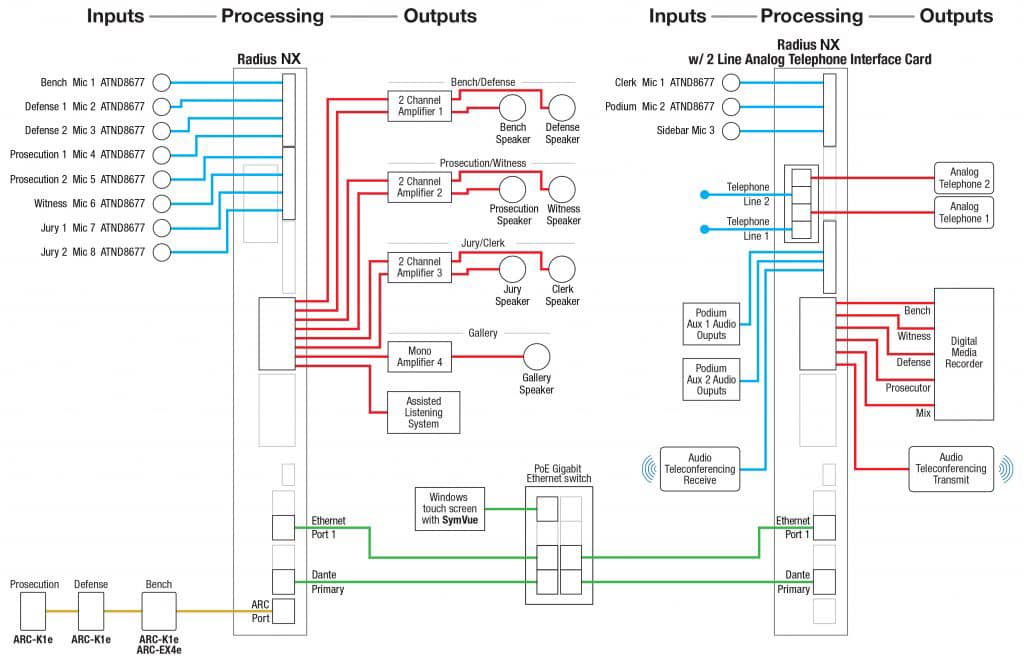 Downloads and Links
Courtroom – Composer Site File
Courtroom – SymVue Windows File
Courtroom – System Hookup Diagram
Courtroom – Download Application Note
Questions? / Comments? – Symetrix Tech Support