Hospital Operating Theater
Audio System Requirements
Operating room, control room and external VTC require echo-free audio conferencing among them.
2 exclusive modes of hands-free conferencing while in the operating room: "Headset mode", or "Room mic mode".
2 gooseneck mics and 2 boundary mics in control room connect to DSP via Dante™ network.
Non-verbal signaling system between both rooms using a push-button wall panel in each area.
Volume control, preset and privacy mute triggering within both areas.
Secured comprehensive system control from within the control room.
Automatic ducking of operating room music when the operator from the control room speaks.
Symetrix Components
| QTY | Description | Notes |
| --- | --- | --- |
| 1 | Radius AEC | DSP with 8 dedicated AEC channels, 4 Line inputs, 8 outputs, and expansion card slot. |
| 1 | ARC-3 | Capacitive touch wall panel controller with graphic display. |
| 1 | ARC-SW4e | Programmable 4 push-button wall panel. |
| 1 | ARC-K1e | Wall panel with 2 volume controls in the space of 1. |
| 1 | ARC-EX4e | 4 push-button wall panel combined with ARC-K1e to create Modular ARC. |
| 1 | Composer | Windows software – design & configure all items. |
| 1 | SymVue | Windows runtime control interface software – generated from Composer. |
Solution Overview
| Requirement | Notes |
| --- | --- |
| Echo-free conferencing among all areas | The Radius AEC has dedicated DSP processing reserved exclusively for echo cancellation. |
| The ability to switch between "headset mode" or "room mic mode" in the operating room | Two presets were created in the main routing matrix in Composer. These are easily triggered via the ARC-3 in the operating room and the SymVue panel in the control room. |
| 4 Dante-enabled mics in the control room | Audio-Technica ATND971 and ATND8677 Dante-enabled mics are natively supported in Composer, allowing for seamless integration. |
| Non-verbal signaling system | A push-button wall controller in each room is used to trigger logic modules which control the LEDs in both ARCs, as well as the SymVue control screen. |
| Control of volume, preset-triggering, and privacy mutes in the system | Accomplished with an ARC-3 in the operating room and an ARC-K1e with SymVue in the control room. All programmed using Composer. |
| Secured control of the entire system from within the control room | A password-protected SymVue control screen generated within Composer. |
| Automatic ducking of operating room music | The Radius AEC programmed from Composer with a Ducker module in-line with the operating room music. |
System Hookup Diagram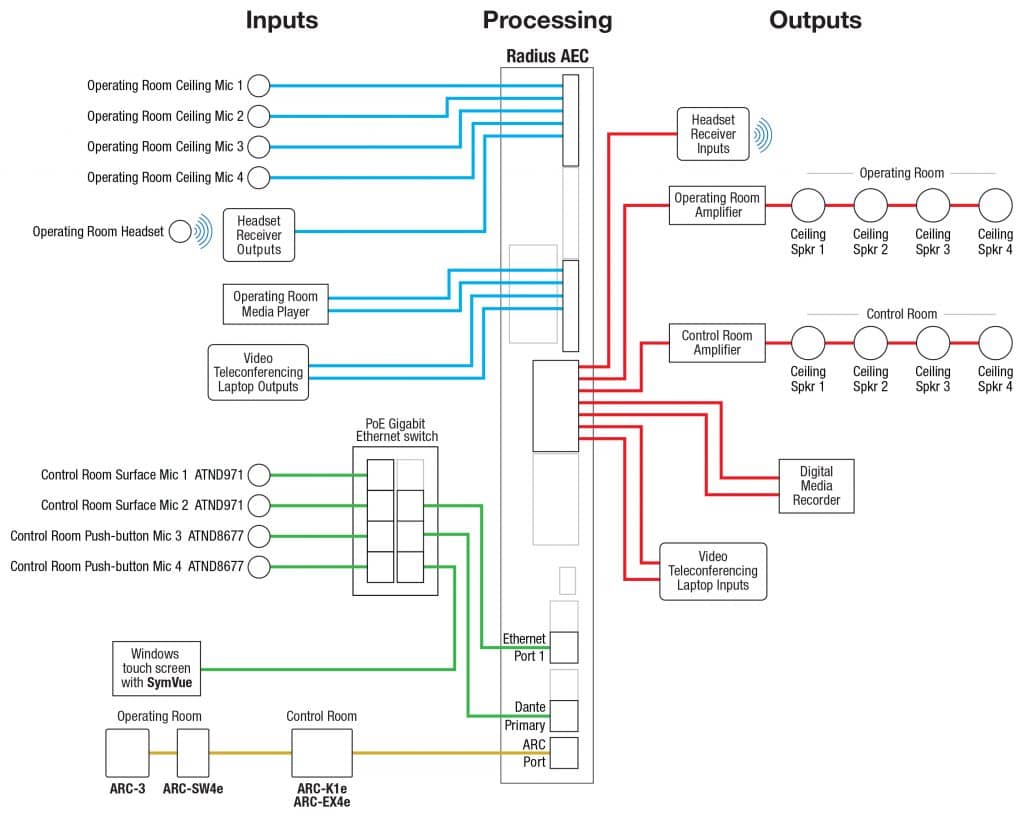 Downloads and Links
Hospital Operating Theater – Composer Site File
Hospital Operating Theater – SymVue Windows File
Hospital Operating Theater – System Hookup Diagram
Hospital Operating Theater – Download Application Note
Questions? / Comments? – Symetrix Tech Support