Multi-zone House of Worship
Audio System Requirements
 Multi zone speech reinforcement routing and control.
 Concert quality audio and multimedia capabilities for special events and recording.
 Calendar controlled automatic preset selection of source and routing for prescheduled events.
 Microphone automixing with priority selection.
 Speech processing for each microphone including EQ and automatic feedback elimination.
 Comprehensive loudspeaker management in all congregation zones to include EQ, limiting, high and low pass filters, delay and mute.
 Remote wall mount volume control for balcony, foyer and exterior.
 Tablet-based control system with real time adjustment and mixing capabilities.
 Zone volume control from multimedia/rack room.
 Integration with current Crestron control system.
Symetrix Components
| QTY | Description | Notes |
| --- | --- | --- |
| 2 | Prism 12×12 | 12 mic/line in, 12 line out DSP (uses Dante network for expansion). |
| 2 | ARC-EX4e | 4 push-button wall panel combined with ARC-K1e to create Modular ARC. |
| 3 | ARC-K1e | Remote wall mount volume control for balcony, foyer and exterior. |
| 1 | Composer | Windows software – design & configure system. |
| 1 | SymVue | Windows runtime control interface software – generated from Composer. |
Solution Overview
| Requirement | Notes |
| --- | --- |
| Speech reinforcement & processing | Each microphone connected to a Prism 12×12 will be routed through a high pass filter, EQ and feedback fighter. Each input can be routed to any output via a matrix mixer. |
| Multimedia Input | CD and DVD players are connected to the line inputs of a Prism 12×12. Audio is then processed via an AGC (Auto Gain Control) module to ensure multimedia signal levels are consistent regardless of program material. |
| Prescheduled events | Input and output routing options for prescheduled events are stored in the Composer site file as presets. Composer's event scheduler recalls these presets at the programmed date and time. The presets include: morning service, evening mass, prayer and choir rehearsal. |
| Automixing with priority | Each group of inputs are routed to gain-sharing automixers. Each automixer has individual channel faders and a master. Each individual channel can be set to either manual or auto mix mode. Channels also have priority level adjustments. Input groups include: service microphones (ambo, altar, lectern and wireless), multimedia (CD and DVD) and choir (director, solo, choir, piano, guitar, bass and drums). The automixer level and function are all adjustable via SymVue remote control. |
| Loudspeaker management | Each Prism 12×12 is programmed using Composer to include speaker manager and limiter modules for every output. |
| Wall mount volume control | (1) ARC-K1e will be installed in the balcony to provide volume control of balcony.  (2) ARC-K1e's will be installed in the foyer to provide volume control of foyer and exterior. |
System Hookup Diagram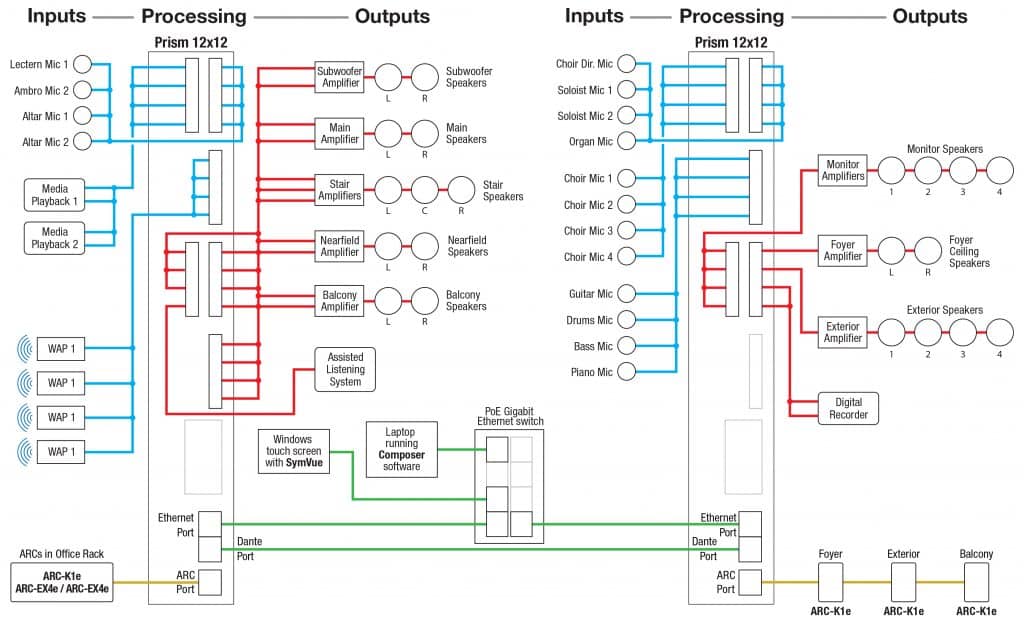 Downloads and Links
House of Worship – Composer Site File
House of Worship – SymVue Windows File
House of Worship – System Hookup Diagram
House of Worship – Download Application Note
Questions? / Comments? – Symetrix Tech Support