Parade Float
Audio System Requirements
Multimedia capabilities along with consistent volume level output for parade performance.
Microphone automixing with priority selection.
Speech processing for each microphone including EQ and automatic feedback elimination.
Comprehensive loudspeaker management to include EQ, limiting, high and low pass filters, delay, and mute.
Remote volume and mute control for float driver.
Remote CD player and media player control for float driver.
24v powered audio system.
Symetrix Components
| QTY | Description | Notes |
| --- | --- | --- |
| 1 | Edge | DSP frame with 4 I/O expander card slots, 64×64 Dante (uses Dante™ network for expansion). |
| 2 | Analog Input Card | 4 channel analog mic/line input card. |
| 2 | Analog Output Card | 4 channel line output card. |
| 1 | ARC-3 | Capacitive touch wall panel controller with graphic display. |
| 2 | ARC-SW4e | Programmable 4 push-button wall panel. |
| 1 | Composer | Windows software – design & configure system. |
Solution Overview
| Requirement | Notes |
| --- | --- |
| Multimedia Input | CD and media players are connected to an analog input card installed into the Edge. Audio is then processed via an AGC (Auto Gain Control) module to ensure multimedia signal levels are consistent regardless of program material. |
| Automixing with priority | Each group of inputs are routed to a gain-sharing automixer. The automixer has individual channel faders and a master. Each individual channel can be set to either manual or auto mix mode. Channels also include priority level adjustments. Input groups include: microphones, CD player, and media player. |
| Speech processing | Each microphone is connected to an analog input card installed into the Edge, and will be routed through a high pass filter, EQ, and feedback fighter. Each input can be routed to any output via a matrix mixer. |
| Loudspeaker management | Each output is programmed using Composer to include EQ, compressor, limiter, and delay modules. |
| Remote volume and mute control | An ARC-3 is installed at the drivers location. |
| Remote CD and media player control | Two ARC-SW4e's are installed at the drivers location to control play, next track, pause, and stop functions. Each button triggers a string output control command that is sent to the cd or media player. |
| 24v powered audio system | Edge aux power accepts 24 VDC / 2.0 Amp auxiliary power source. |
System Hookup Diagram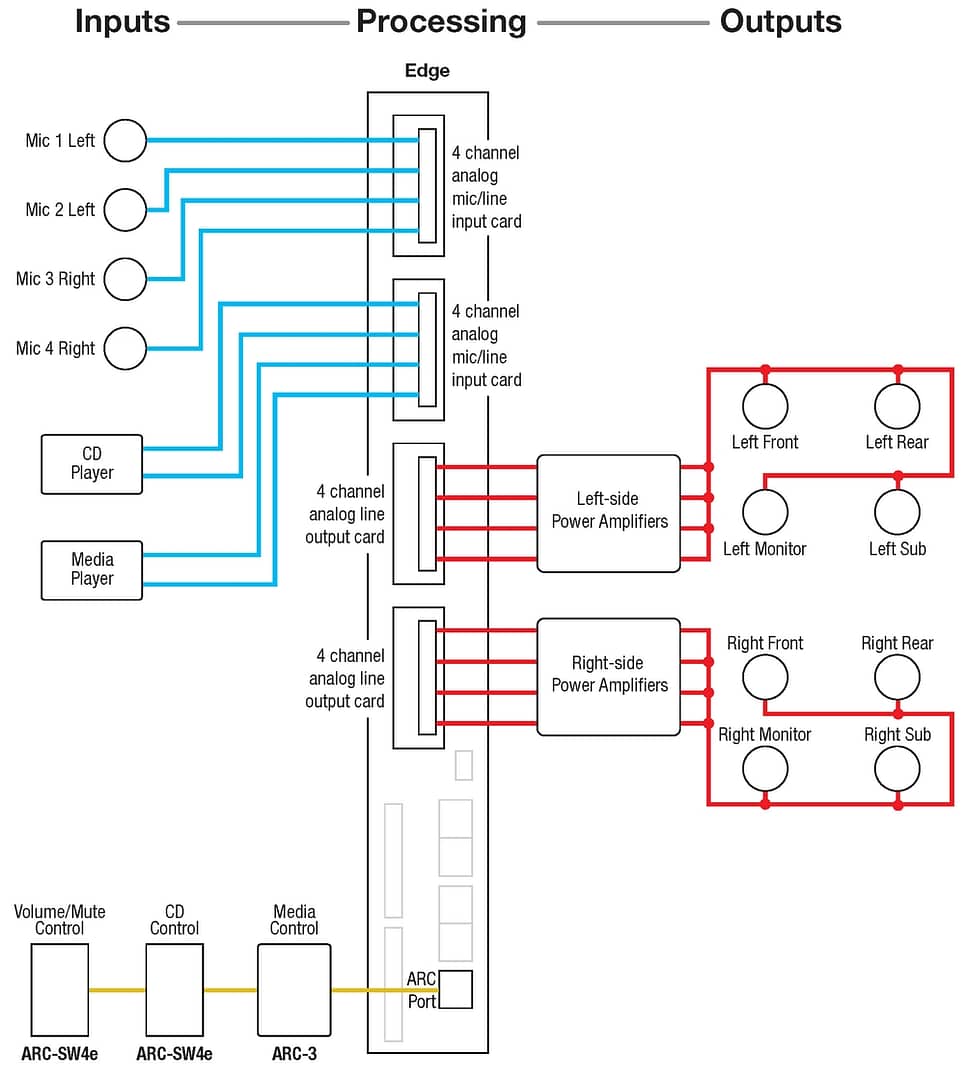 Downloads and Links
Parade Float – Composer Site File
Parade Float – System Hookup Diagram
Parade Float – Download Application Note
Questions? / Comments? – Symetrix Tech Support