Regional Stadium
Audio System Requirements
Processing and routing of audio from announcer, dugout, and locker room microphones.
Processing and routing of audio from multimedia devices, network television stations, loudspeakers, and amplifiers.
Comprehensive loudspeaker management to include EQ and delay.
Ultra low latency DPS's connected via a Dante digital audio network infrastructure to transport audio across the site.
Emergency or major incident audio management.
Preset recall and amplifier on/off powering.
Wall mount audio source selection and volume control for locker rooms.
Master audio PC controller located in the announcer's booth.
Symetrix Components
| QTY | Description | Notes |
| --- | --- | --- |
| 3 | Radius 12×8 EX | 12 mic/line in, 8 line out DSP (uses Dante™ network for expansion). |
| 3 | xIn 12 | 12 channel analog input expander (uses Dante™ network for expansion). |
| 3 | xOut 12 | 12 channel analog output expander (uses Dante™ network for expansion). |
| 1 | ARC-K1e | Rotary encoder wall panel controller. |
| 1 | ARC-EX4e | 4 push-button wall panel combined with ARC-K1e to create Modular ARC. |
| 1 | Composer | Windows software – design & configure system. |
| 1 | SymVue | Windows runtime control interface software – generated from Composer. |
Solution Overview
| Requirement | Notes |
| --- | --- |
| Microphone processing and routing | Each microphone connected to the system will be routed through an EQ and compressor/limiter. Each input can be routed to any output via a matrix selector. |
| Multimedia processing and routing | Mixing consoles for scoreboard/clubhouse and booth, CD and DVD players, TV satellite receivers, and radio tuners are connected to the line inputs. Audio is then processed and routed to any output via a matrix selector. |
| Loudspeaker management | Each Radius 12×8 EX is programmed using Composer to include speaker managers for EQ and delay of outputs. |
| Dante DSP network | A Dante networked audio system, comprised of Radius 12×8 EX, xIn 12, and xOut 12 units with full 64×64 send/receive capabilities linked using a standard Ethernet infrastructure. |
| Emergency audio management | When DSPs are triggered by a major incident or evacuation, all regular inputs are muted across the entire site and the regional stadium's priority paging station is activated for distribution to all zones. |
| Remote preset recall and amplifier on/off powering | Each Radius 12×8 EX features preset control via it's front panel. Different presets can be recalled and amplifiers can be powered up and down using front panel controls. |
| Wall mount source select and volume control | Modular ARC (ARC-K1e + ARC-EX4e) installed in the locker room provides source selection and volume control. |
| PC control system | Composer generated SymVue file for use with Windows-based PC for master control. The control system interface, located in the announcer's booth, includes mixers with mute, source select, and volume control for each zone, fire alarm status, amplifier power up/down, and diagnostics. |
System Hookup Diagram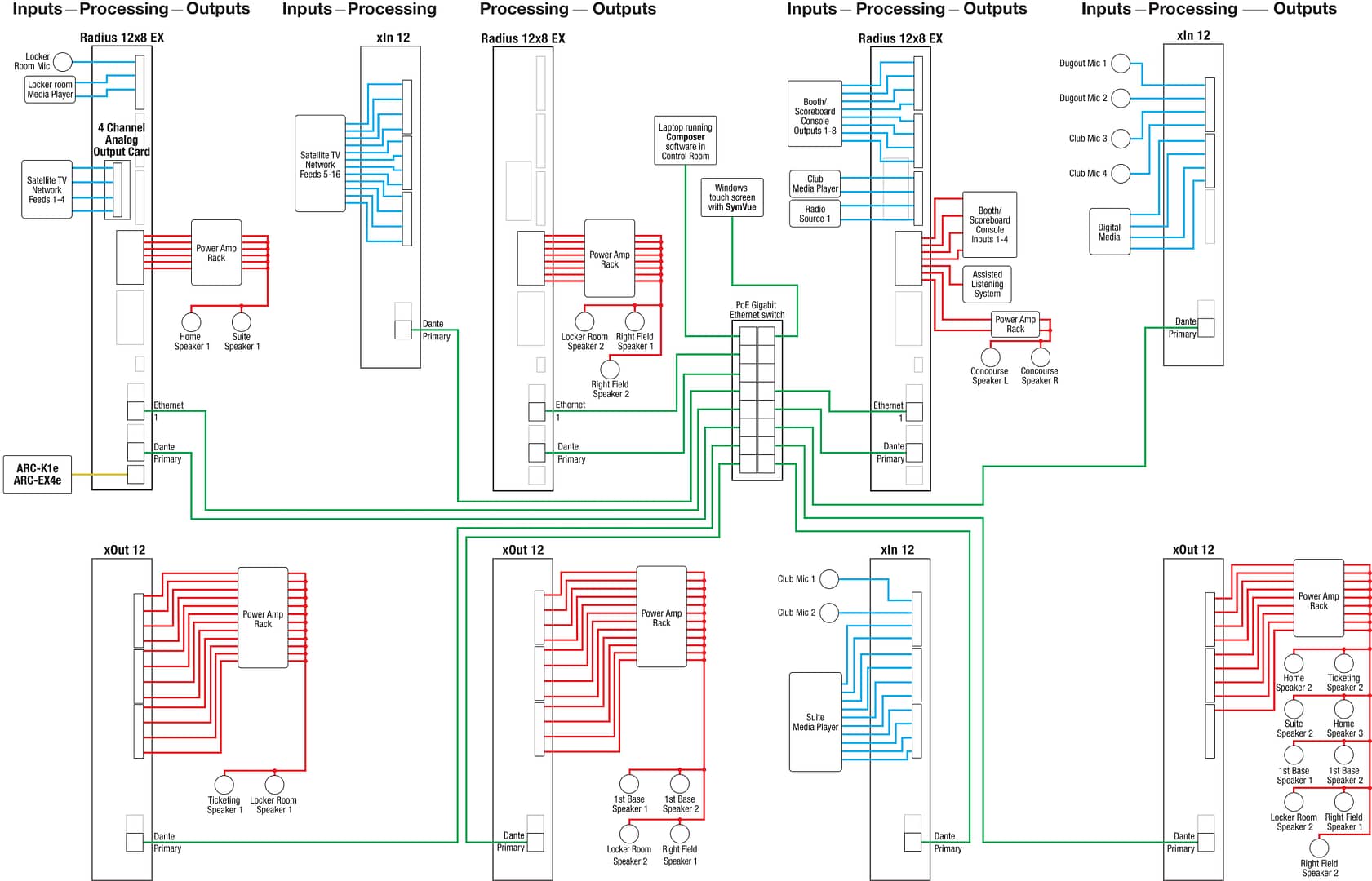 Downloads and Links
Regional Stadium – Composer Site File
Regional Stadium – SymVue Windows File
Regional Stadium – System Hookup Diagram
Regional Stadium – Download Application Note
Questions? / Comments? – Symetrix Tech Support