Rock & Roll Museum
Audio System Requirements
Audio processing of 15 media players with feeds routed to 15 separate exhibit zones.
Comprehensive loudspeaker management for directional speakers at each exhibit.
Unique "Be the Drummer!" jam room requires treatment and routing of drum mics.
Full end-user control over jam room has two modes of operation: Play-along mode, and Solo mode.

Play-along mode requires control of an external media player for song selection.
Both modes require control of the headphone mix: BGM, drums, and overall level.

Lobby/ticketing area requires BGM and Paging – BGM is automatically ducked during pages (pages route to Exhibit area as well).
1 gooseneck paging mic in lobby area, connected to the DSP via the Dante™ network.
Automatic gain adjustment of lobby BGM to handle a wide variety of program levels.
Zone and paging volume control needed in lobby area.
Emergency system mute triggered by fire alarm panel.
Symetrix Components
| QTY | Description | Notes |
| --- | --- | --- |
| 1 | Radius 12×8 EX | 12 in, 8 out, I/O expander card slot, 64×64 Dante (uses Dante network for expansion). |
| 1 | 4 Channel Analog Input Card | 4 additional analog mic/line inputs – fits into Radius 12×8 EX card slot. |
| 1 | xIn 12 | 12 channel analog input expander (uses Dante network to link to DSP). |
| 1 | xOut 12 | 12 channel analog output expander (uses Dante network to link to DSP). |
| 1 | ARC-K1e | Rotary encoder wall panel controller. |
| 1 | Composer | Windows software – design & configure all items. |
| 1 | SymVue | Windows runtime control interface software – generated from Composer. |
Solution Overview
Requirement
Notes
Processing and routing of multiple media players to multiple highly-directional speaker zones
Processing and routing is accomplished via Composer's myriad of DSP modules.
Comprehensive loudspeaker management for exhibit speakers
A Speaker Manager module dedicated to each zone provides 8-bands of parametric EQ, High Pass/Low Pass filters, and built-in delay.
"Be the Drummer!" drum mics require processing, mixing and routing
Gating, EQ, compression and mixing of drum mics is provided by Composer's DSP modules.
Full end-user control over the "Be the Drummer!" system, including: mode selection, song selection, media player transport controls, and level control
End-user control accomplished via a SymVue control screen generated within Composer.

Mode selection via two presets created in Composer to toggle between the "Play-along" and "Solo" modes of operation.

Media player control is accomplished by triggering Composer's string output modules to transmit commands over IP or RS-232 to the room's media player.

Paging and automatic ducking of BGM in lobby/ticketing area
The Radius 12×8 EX is programmed from Composer with a Ducker module in-line with the BGM music.
1 Dante-enabled mic for paging station
Audio-Technica ATND8677 Dante-enabled mic is natively supported in Composer, allowing for seamless integration.
Automatic level adjustment of lobby BGM
An Automatic Gain Controller DSP module helps to regulate a variety of unpredictable input levels.
Uncomplicated volume control for the lobby area
An ARC-K1e wall controller provides simple control over zone and page volume.
Fire alarm panel automatically mutes the audio system
Easily integrated using the built-in GPIO of the Radius 12×8 EX. A system mute can be built using Composer's full suite of logic modules, or simply drop in the "Emergency System Mute" super-module included in software.
System Hookup Diagram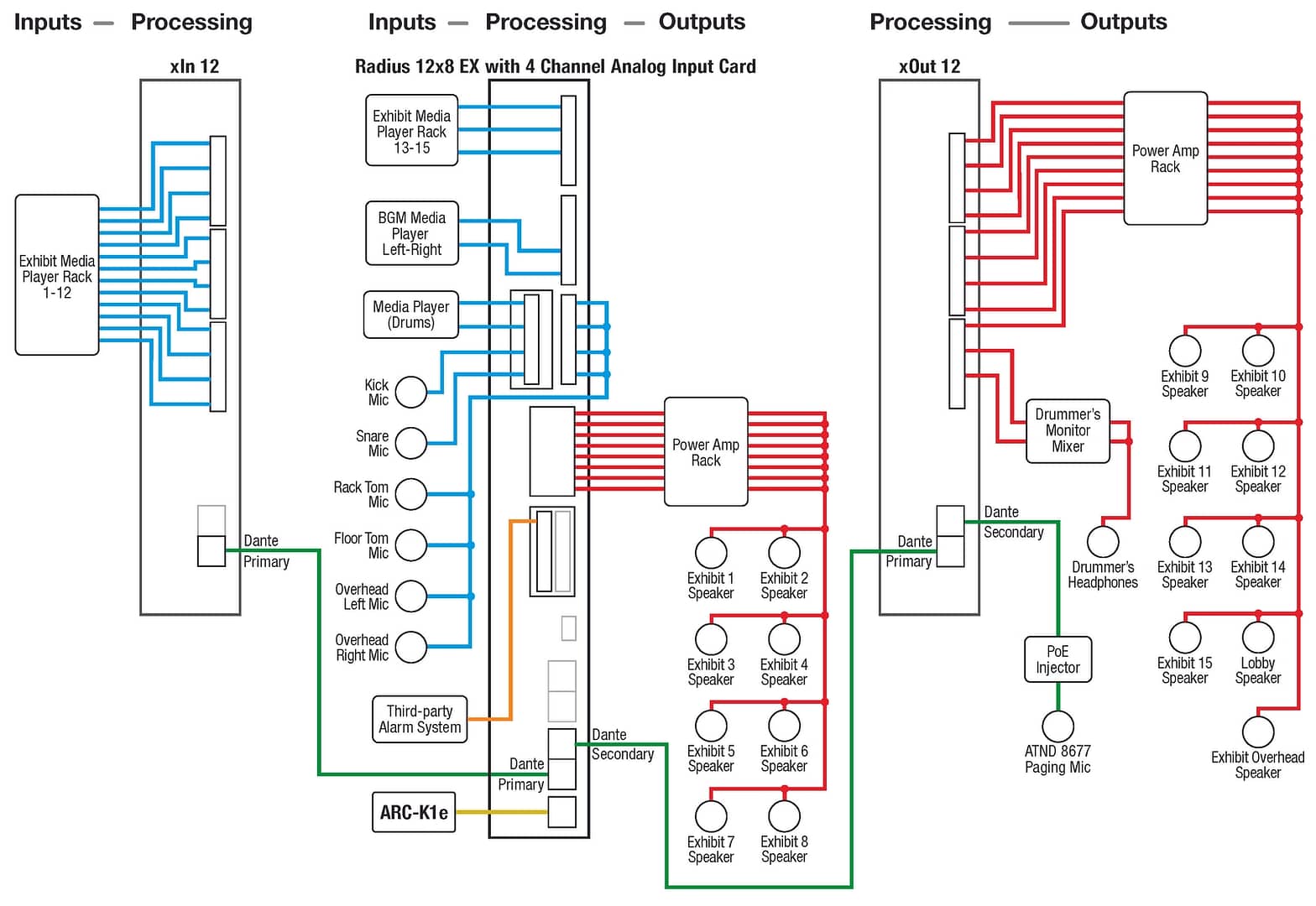 Downloads and Links
Rock & Roll Museum- Composer Site File
Rock & Roll Museum – SymVue Windows File
Rock & Roll Museum – System Hookup Diagram
Rock & Roll Museum – Download Application Note
Questions? / Comments? – Symetrix Tech Support