Roxy Lanes is a unique entertainment venue featuring both boutique bowling alleys and ballrooms. They have six locations across England that feature games such as shuffleboard, ice-free curling, American pool, air hockey, ping pong and even karaoke. The entertainment they offer appeals to both adults and children. Roxy Lanes serves a variety of beverages, craft ales, cocktails, wine and pizza, and the venue can accommodate up to 150 people. They cater to large parties, small groups, and kid's birthday parties.
Pete Rollinson, CEO, Technical Director and Project Manager of Audioserv Ltd., explained how they installed a new audio system at their Leeds location. "As we look after the audio in all of Roxy's sites, this project was relatively similar to many we have done before. Roxy's management has some knowledge of sound systems and usually makes suggestions as to where he thinks speaker placement would work for both the venue and customers. He is usually not far off what I would suggest, so it is a fairly painless design process where I don't need to worry about convincing the client about proper speaker placement. As many of these projects are large and consist of multiple areas which need audio coverage and all need to be a very similar volume, this usually dictates that what's required is a well distributed system, where high audio quality is needed, but physical location of the speakers is paramount to enable good time alignment to be achievable and thus make the whole system integrated."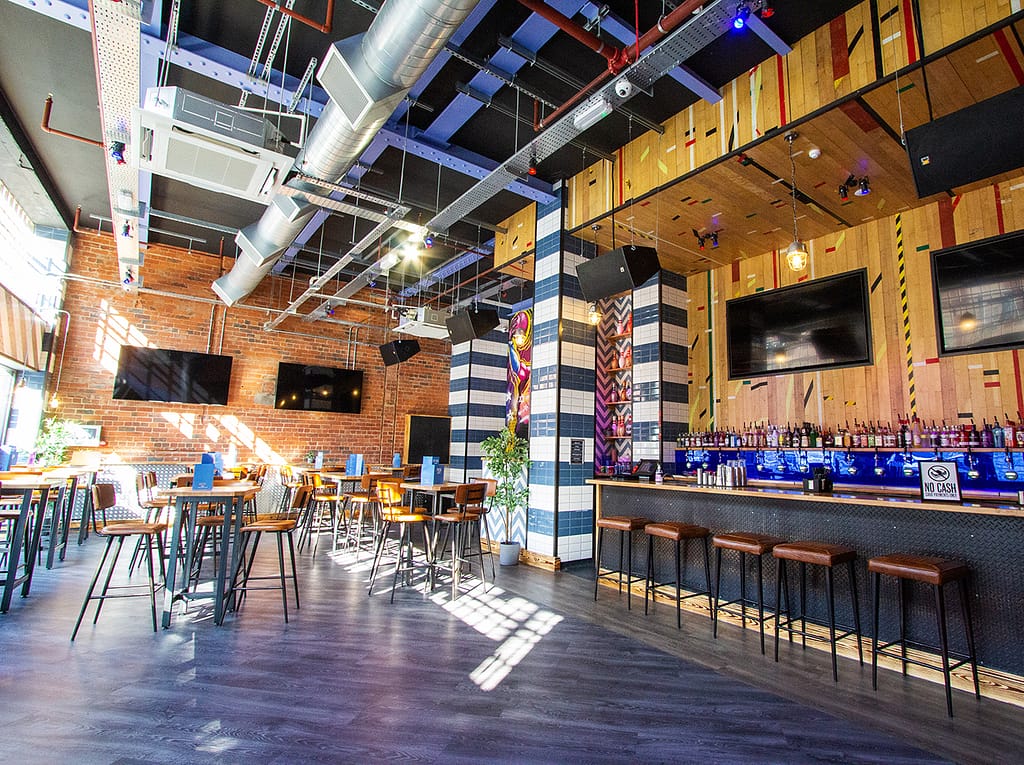 Roxy Leisure is a Leeds, England based company which has grown over the past few years, from one Roxy Ballroom in the center of Leeds, to multiple venues around the UK and they have more that are in the build or planning stages. Roxy Lanes in Leeds opened several years ago, and they began putting bowling lanes into some of their larger new venues and the Leeds site quickly began to be too small. This steered them towards the new site in the Leeds Light Centre, which has seen the venue size increase massively over the previous building. "This new venue has ten bowling lanes and two ice-free curling lanes as well as live sports shown on big screens. There are two bars on different floors and food is also served in the venue." stated Pete.
"For this particular system installation we installed two Audac Baso 18's and four Audac PX115 subs in the upstairs bar, seven Audac Vexo 112's and two Baso 15 subs for the lanes, three Audac Vexo's and 1 Baso 15 in the downstairs bar, four Vexo 110's and one Baso 15 in the pool area, two Audac Vexo 8's in the kitchen, two Audac Xeno 8's for the stairs, two Audac Ateo 4's for the bathrooms, and a Symetrix Prism 12×12 for the DSP and three Powersoft Quattrocanali 4804's, a Powersoft Quattrocanali 2404 and an Audac Amp20 MK2 to complete the system." Pete continued, "The Symetrix Prism with Composer software is a great platform to be able to easily create the systems we need to deploy in a wide range of venues. The Dante networking allows easy expansion of systems should the client require it, through the use of Dante amplifiers or other Dante in/out devices, including adding new inputs after the build has been finished, where getting audio cables would be impossible, but there is a network infrastructure available. As we solely use Symetrix for Roxy, having the same systems in every venue simplifies the complexity of their entire maintenance schedule and simplifies our engineer's job as they are very familiar with the Prism platform."
Pete expounds on how much he relies on the sound quality, performance, and ease of installation of Symetrix products. "As we use Symetrix DSPs for most of our audio installations, we are well acquainted with Composer software, so designing a system is relatively easy as long as we have an accurate plan of how the client wants the system to function. All of the Symetrix DSPs that we have used sound excellent and with the Solus and Prism ranges, we can design the audio system how it needs to be, rather than using a fixed architecture system and having to design the venue around the DSP. The system achieved the necessary objectives as initially required. Those being good sound quality, even coverage for the whole venue and enough SPL for the venue. The Prism 12×12 is networked into the system on its own V Lan, so the client has control of every area as required."
When asked if there was anything challenging about the Roxy installation Pete said, "There isn't anything particularly epic about the audio installation, except that there are multiple areas of time alignment to correctly sum the audio for every listener. Many bar audio systems (as opposed to very high SPL club or live music venue systems) don't use any time alignment and have speakers thrown in with little regard to timing."
Audioserv has grown over the last seventeen years from one guy with a PA system, to a team of audio and lighting engineers and venue installation specialists. Even through the pandemic, they were hard at work installing audio systems for their clients when it was deemed safe to do so. As Pete explained, "Over the years, specifying the right kit for an audio install has become an enjoyable task, as our portfolio of manufacturers' accounts has grown. Our specifying process is much the same whether it is a small bar, or a large music venue to find out what the client wants their system to achieve and give them at least two options which will fulfill their requirements."
Audioserv has developed a tried-and-true process for repeatable system design using Symetrix's flexible DSP options. As Pete explains, "The basis of any system we install is about speaker type and placement. This will always dictate how many amplifier channels are required and from there, we know which DSP unit to spec. With Symetrix's Prism range, we always have the option of further development of the system using Dante audio networking, should the client decide to increase the complexity of the project after the initial spec."