Clockaudio was established in 1994 by a team of audio specialists with many years of experience in the design and manufacture of innovative pro-audio products. The company's success has been established on sound principles: its dedication to quality, service and innovation.
Audio professionals around the world actively seek out and recommend Clockaudio for its reputation as a trusted and dedicated manufacturer. The company is renowned for its customer centric approach to audio solutions and its ability to customize products for seamless integration on both a technical and aesthetic level. Central to this is the company's newly expanded in-house research and product development facility which allows clients to explore customized prototypes and develop specific briefs in partnership with Clockaudio. This partnership approach has struck a chord with consultants, integrators, end users and contractors alike and provides them with the opportunity to be involved in the final solution.
Manufactured in the UK, Clockaudio products are synonymous with outstanding quality and the company provides unparalleled technical, integration, installation and sales support to audio professionals and their clients around the globe.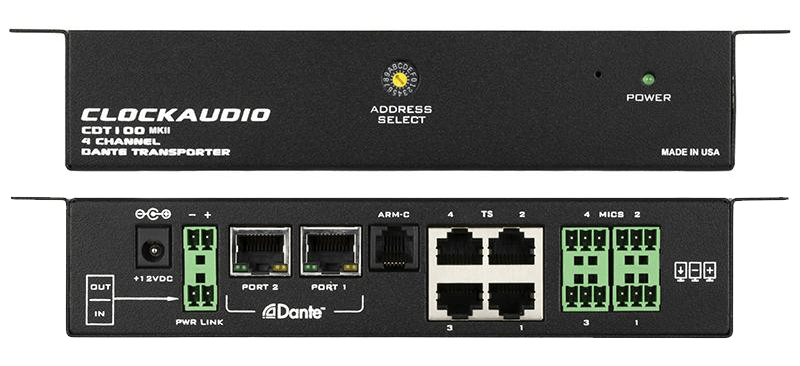 The Clockaudio Dante Transporter is an advanced professional Dante communication product which combines audio and control transport using network based Dante protocol. By taking advantage of the advanced Dante technology and based on the high performance and pre-configurable hardware platform, this product transfers audio and control signals via widely used Ethernet and is able to guarantee perfect sound quality.
Easy to install with under table mounting
Audio and control signals transported over Dante
4 audio inputs, multiple units may be daisy chained (maximum of 6 units on a single CAT-5)
Provides Phantom Power for each mic input
4 RJ45 Touch Switch ports compatible with all logic enabled Clockaudio devices including:

direct connection to CH32, TS001, TS003, TS005, CRM202S-RF, CRM203S-RF, CS-S Series, SM80S, S80S & SWP-2
direct connection to ARM-C controller & CCRM4000 Retractable Microphone

Open API for interfacing with Control Systems
Compatible with all Dante enabled DSPs and most logic control systems
Power Supply for the CDT-100 is sold separately
AES67 Compatible