Control Server
A web services platform for AV control.
Programmed using Composer software.
Built-in wireless and wired connectivity.
Browser-based administration and control.
Serves BYOD computers, tablets, and phones.
WI-FI access makes for a secure "AV control island".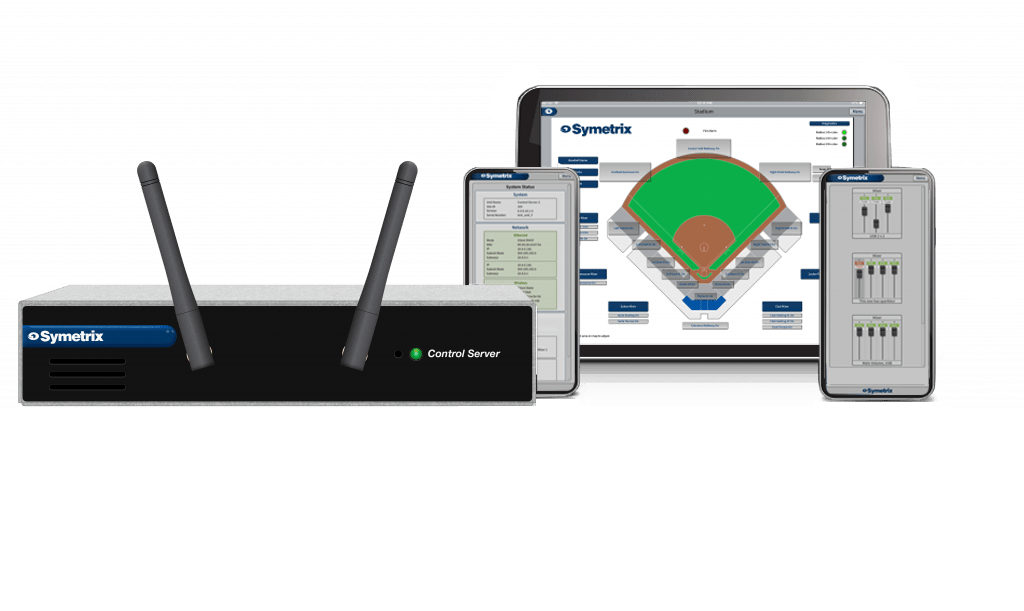 Network-based AV Management.  Control Server is a flexible and extensible approach to the control of Symetrix Composer-enabled DSPs and select third-party AV components. The centralized server-based technology enables comprehensive design, deployment, and maintenance of large and sophisticated systems employing numerous control endpoints supporting multiple simultaneous users.
Wired and wireless network interfaces.  Control Server's wired Gigabit Ethernet port enables control via dedicated AV or general purpose facility networks, as well as direct communication with networked DSP hardware. Operating in wireless mode, Control Server functions as an access point providing mobile device connectivity – in essence providing a secure "AV control island".
Straight-forward Setup and Deployment.  Control Server is designed into a system using Composer – Symetrix' award winning open-architecture application. Composer is used to locate and program Control Server and other Symetrix DSPs and accessories. Control Server's browser-based administration is then used to manage app licenses, users, and user access.
SymVue for Control Server.  Award winning SymVue running on Control Server hardware makes possible robust deployment and maintenance of large scale systems by supporting numerous and diverse browser-based endpoints under the control of multiple simultaneous users. Learn more about SymVue here.
Mixer for Control Server.  Mixer supports up to 32 virtual channel strips, each with an assignable fader and a mute button, and dynamic screen-sizing and orientation. Mixer can be used on virtually any mobile device. Users can group and hide channels, assign custom labels and colors, and adjust fader resolution and travel. Multi-touch functionality makes possible simultaneous adjustment of multiple faders, just like a physical mixer. A Mixer instance can be saved to a smart device's home page for instant access, appearing as a native app. Multiple users can operate the same instance, and user access control can be provided via username and password security for each user.
Benefits of the "App" Model.  Because apps are virtual, they serve to reduce overall system costs by cutting down on hardware requirements. Unlike Control Server apps, functionally equivalent hardware products are expensive and prone to wear, tear, and failure.
Unlimited Programming Flexibility.  Control Server is programmed using Composer – Symetrix' award winning open-architecture programming application. Unique to Composer is the ability to natively configure Symetrix and select third party Dante hardware – thereby eliminating the confusion of multiple or redundant software applications. Learn more about Composer here.
Hover over image to enlarge

AutoCAD File
Full Line Catalog
Software and Supporting Documentation
System
| | |
| --- | --- |
| Processor | Intel® 64 Architecture Chipset. |
| Ethernet Cable | Standard CAT5e or CAT6, maximum device-to-device length = 100 meters. |
| Maximum Devices Per System | 80 units per Site File. |
| Maximum Stored Presets | 1000. |
Peripheral Connectivity
| | |
| --- | --- |
| Ethernet | Integrated Intel® 10/100/1000 Network Connection. |
| Wi-Fi | IEEE 802.11a/b/g/n. |
| USB | Two Hi-Speed USB 2.0 ports. |
Wi-Fi
| | |
| --- | --- |
| Chipset | Atheros XSPAN family with SST3™, with increased link rate by 100% at short range, 50% at mid-range and 25% at long range. |
| Type | IEEE 802.11n compliant and backward compatible with 802.11a/b/g. |
| Frequency | Simultaneous dual-band 2.4 GHz and 5 GHz with Dynamic Frequency Selection (DFS). IEEE 802.11 b/g/n: 2.412-2.462 GHz. IEEE 802.11a/n: 5.18-5.24 + 5.745-5.825 GHz (US) 5.18-5.24 GHz (Europe ETSI). |
| Data Transfer Rates | Up to 300 Mbps. |
| Radio Data Rates | Auto rate sensing. |
| Enhancements | Dual-band 2x2 spatial multiplexing, cyclic-delay diversity (CDD), low-density parity check (LDPC), maximum ratio combining (MRC), space time block code (STBC) and Tx beamforming (TxBF). |
| Antennae | Two RP-SMA (reverse-polarity SMA) auto switching omni-directional antennae providing 1.5 dBi nominal gain at 2.4 GHz and 2.1 dBi nominal at 5 GHz. |
| International | Multi-Country Roaming Supported (IEEE 802.1d Global Harmonization Standard). |
| Modulation | OFDM: BPSK, QPSK, 16-QAM, 64-QAM; DSSS; DBPSK, DQPSK, CCK. |
| Security | 40-bit (also called 64-bit) and 128-bit WEP, WPA-PSK, WPA2-PSK, and WPA/WPA2 Enterprise, IEEE 802.11i encryption. |
| Number of Simultaneous Connections | 50. |
Mechanical Specifications
| | |
| --- | --- |
| Space Required | Half rack unit (WDH: 20.83 cm x 22.86 cm x 4.37 cm / 8.2 in. x 9 in. x 1.72 in.) Depth does not include antenna or connector allowance. Allow at least 3 inches additional clearance for front and rear panel connections. Additional depth may be required depending upon your specific wiring and connections. |
| Electrical | 12 VDC @ 2.5 A, 30 Watts Maximum. Symetrix part number 12-0036, CUI part number SMI36-12-V-P6. |
| Ventilation | Maximum recommended ambient operating temperature is 30 C / 86 F. Ensure that the left and right equipment sides are unobstructed (5.08 cm, 2 in minimum clearance). The ventilation should not be impeded by covering the ventilation openings with items such as newspapers, tablecloths, curtains, etc. |
| Certifications or Compliance | SAFETY: UL/CSA/EN 60065. EMC: FCC 15.107, FCC 15.109, ICES-003, EN 300 328 V2.1.1, EN 301 489-17 v3.1.1, EN 301 893 V2.1.1, EN 55103-2, EN 55032, EN 61000-4-5, EN 61000-3-2. ENVIRONMENTAL: RoHS. FCC: Part 15 Subpart C, Subpart E (UNII-1/2/2Ext/3). ID: N6C-SXPCEAN2. JAPAN RADIO LAW (MIC): Rule Article 2 Section 1 Number 19, Rule Article 2 Section 1 Number 19-3, Rule Article 2 Section 1,Number 19-3-2. Certification Number: 007-AC0271. |
| Shipping Weight | 5.2 lbs. (2.4 kg). |
Architect and Engineer Specifications: Control Server.
The front panel shall include a bi-color LED and momentary switch used for network identification, power-on, and other documented features or control.
The unit shall provide user connections for the included power supply and a standard 10/100/1000 Base-T RJ45 network connection utilizing CAT5e/6 cable. A standard 802.11 a/b/g/n Wi-Fi interface may be enabled for built-in wireless control of the AV network or bridging control access from an existing network.
The unit shall host apps which provide specialized web-based user control interfaces and enhanced functionality for Symetrix DSP systems. These interfaces may be accessed by multiple network devices running compatible web browsers. Compatible web browsers for the user interface shall be:
Windows: Internet Explorer 10+, Microsoft Edge, Chrome, and Firefox.
macOS: Safari, Chrome, and Firefox.
iOS: Safari.
Android: Android Web Browser.
All program memory shall be non-volatile and provide program security should power fail. The device shall provide an on board real time clock to facilitate automatic, timed changing of presets and may sync to NTP.
A designer software application shall be provided that operates on a Windows computer, with network interface installed, running Windows® 7 or higher operating system. The application shall discover units on the network and program its control interfaces. A built-in web-based administration interface shall provide the means to install new, update existing, and license apps as well as define users and configure various system settings.
The device shall have a power plug that accepts power from Symetrix part number 12-0036, CUI power supply part number SMI36-12-V-P6. The device shall meet UL/CSA and CE safety requirements and comply with CE and FCC Part 15 emissions limits. The device shall be RoHS compliant. The chassis shall be constructed of cold rolled Galvalume®, and may be surface mounted or mount into a standard 19" 1U EIA rack using an available bracket or rack tray. The device shall be a Symetrix Control Server.
Installed Sound DSP
Radius
Accessories
Flexible Rack or Surface Mounting of 1/2 Rack Products
Software
Composer