SymVue
Rapid Composer-based GUI authoring.
Created and tested offline – no scripting required.
3 Target Platforms: Control Server, T5, Windows.
Total control of colors, fonts, symbols, custom graphics.
Always in sync with ARC and 3rd party control systems.
Control Server version supports browser-enabled devices.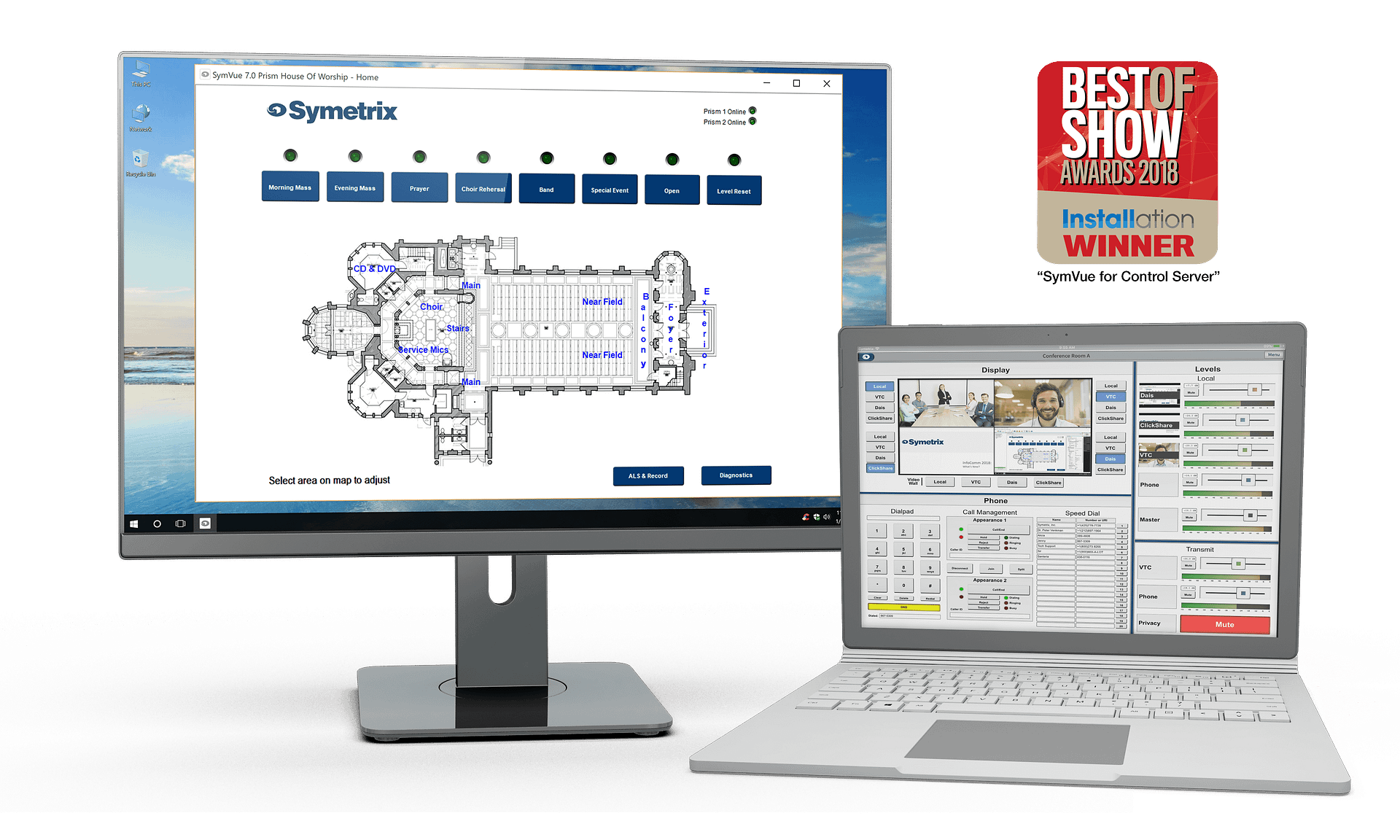 GUIs come to life in Minutes – Not Days.  Using Composer's SymVue export feature commonly adjusted control objects, indicators, and labels are chosen and configured into sets of attractive, easily accessible multi-user screens – created and tested offline without any script writing or coding.
Three Target Hardware Platforms.  Symetrix Control Server, Symetrix T5 Touchscreens, and Microsoft Windows computers and tablets.
Total Control.  With SymVue, designers exercise complete discretion over colors, fonts, custom symbols and graphics to satisfy their customers' exact requirements.
Always In Sync.  SymVue control screens work alongside Symetrix ARC Wall Panels, ARC-WEB, and 3rd party control systems. Parameter changes and indicators on all control devices are kept in perfect synchronization.
The Benefits of Symetrix Control Server.  Virtually any HTML browser-enabled device (an Apple iPad, for example) can connect to Control Server and in turn provide multi-touch control of Symetrix DSPs and select third party audio and video hardware.
SymVue Licensing.  SymVue is licensed without charge for an unlimited number of Symetrix T5 Touchscreen and Windows configurations. Five SymVue for Control Server configurations are free of charge with additional licenses available for purchase in blocks of five.
Installed Sound DSP
Radius
Accessories
A web services platform for AV control. Programmed using Composer software. Built-in…
Software
Composer