Mobile, AL, USA — October 2021 Atlantic Video Corporation has recently installed a Symetrix Radius NX 12×8 DSP and T-5 Glass touchscreen endpoints as part of a full audio-visual refresh of the municipal courtrooms in Mobile, Alabama, USA.
The AV systems in the three municipal courtrooms housed in the North Tower of Mobile's Government Plaza were due for renewal, with much of the hardware dating from the facility's construction in 1994. When James Barber, Chief of Staff for the City, initially approached Gary Crumbley, head of the Mobile branch of AV system integrator, Atlantic Video Corporation, their main priority was excellent speech intelligibility. Of particular concern were the gallery areas, where small speakers set into a suspended lighting truss did not always allow attendees to hear proceedings clearly.
Crumbley and Debbie McGowin, City of Mobile Director of Courts, agreed to treat the first courtroom installation as a prototype, allowing a period of 30 days for evaluation and feedback before finalizing the design for the remaining courtrooms. With no scope to close the courtroom during the installation, Crumbley and colleague Neal Smith fitted their work schedule around court proceedings, leaving the facility spotless and fully functioning each day.
"From the outset we were determined to provide a future-proofed solution that delivers a step change not just in audio quality, but in how AV supports the smooth working of the courtrooms," Crumbley reflects. "At the same time, we always had to remember that this facility is used by judges and attorneys with important jobs to do. The last thing they want to be thinking about is how the AV system functions. It just needs to work. We rejected the first few system concepts because they were over-complex, with too many points of failure. Finally, we arrived at an elegantly simple solution, founded on Symetrix for audio processing and control, WolfVision's Cynap for wireless collaboration and Visionary Solutions' Packet AV encoders and decoders taking care of transport to and from the touchscreens and displays, all meshing together as a cohesive solution."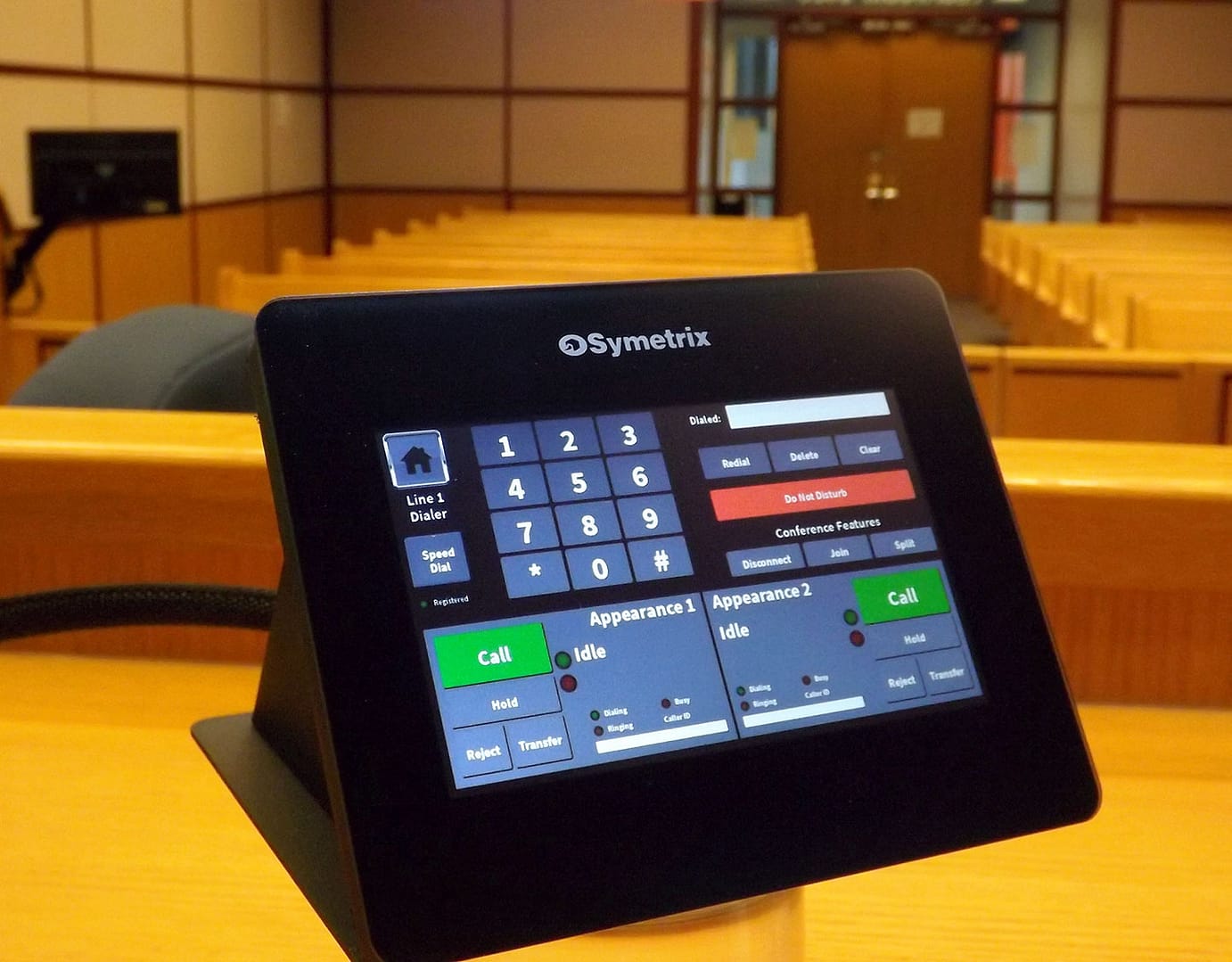 A Symetrix Radius NX 12×8 was selected to manage audio throughout the courtroom, with automatic mixing and an optional dual-core AEC module ensuring maximum intelligibility.   The Radius NX 12×8 routes audio to three zones: the upper bench served by three Sonance PS-P43T pendant speakers and the lower bench and gallery, each furnished with six speakers of the same type. The DSP's USB audio port also allows eight channels of audio to be captured to USB. With rack space always at a premium, Crumbley was pleased to replace the eighteen rack units occupied by the incumbent DSP unit and multichannel amplifier with the slimline 1U Symetrix Radius NX and a half rack unit Powersoft Mezzo 604A amplifier.
Although designed for hands-off operation wherever possible, the system does offer streamlined, intuitive audio control via a pair of a Symetrix touchscreen endpoints. Crumbley called on the expertise of Richard Hembree, Territory Manager with sales rep firm, Griffith Sales Associates, to devise the optimal user interface for the system. Leveraging the power of Symetrix's SymVue GUI authoring technology, Hembree was able to create, test and simulate the different page layouts and custom controls before deployment to the touchscreens. The judge and clerk can mute or change the levels of all mics in the courtroom from their screens, with a Reset button allowing them to quickly return to the default configuration. Telephone calls are managed from the touchscreens, which can also trigger sidebar conferences, during which all mics are muted, noise is played through the speakers and the city's official seal is displayed on all screens while judge and attorneys confer in confidence.  "Symetrix has become our go-to DSP solution," comments Crumbley. "We are impressed by the quality and robustness of the products and by the development team behind them. We have also had excellent support from Richard Hembree, who is a tremendous source of knowledge on Symetrix DSP and all things audio."
Feedback of the completed installation has been overwhelmingly positive. "It is extremely important for the judge, attorneys, and parties to be able to hear well and clearly in a courtroom," comments Debbie McGowin. "Mobile Municipal Court handles misdemeanors some of which can result in a jail sentence.  Being that someone's liberty may be at stake, all involved need to be able to hear the evidence clearly. The old system did not allow for the clear and crisp audio and sound that the new system has.  Nor did we have the capability for virtual testimony or the sharing of evidence electronically. The new audio system has been a tremendous improvement. The audio in Courtroom C was updated while we were still under the mask requirement. The improvement allows you to hear everyone speaking clearly even while wearing a mask."
"The improvement in audio quality throughout the whole courtroom was immediately appreciated by the professionals who work there," Crumbley adds. "The fresh approach to sharing evidence and managing the displays has also been very popular. The updated courtrooms will allow for better efficiency as well as virtual hearings and testimony in matters in which it is allowed. With the addition of a couple of mics, we now have a proven solution that we can confidently roll out to the other courtrooms."