Bend, OR, USA — April 2020… Located in Bend, Oregon's westside, Deschutes Pediatric Dentistry is a husband and wife-owned dental practice providing the highest quality pediatric dental care for children in a friendly, high-technology practice.
After spending many years in their first office, Drs. Stephanie Christensen DMD and Steve Christensen DMD moved their practice into a brand-new building that needed a new, state-of-the-art audio build-out. In the Christensens' last office, the audio experience was based around old television sets and Bluetooth headsets. This system made it difficult for the doctors to focus on their patients and led to recurring problems with connectivity, sanitation, and control.
The ultimate goal for the new office was to have an AV system that would simplify the dentists' workflow and give the patients a state-of-the-art audio/visual experience. This included dedicated AV at each patient station and a background music system for the rest of the office.
With high expectations and a complex AV system at hand— Audio Visual Bend was sought out to bring this vision to life. Tony Sprando, Senior AV Designer with Audio Visual Bend, is a long-time user of Symetrix products and knew he needed to get a Symetrix DSP into this project.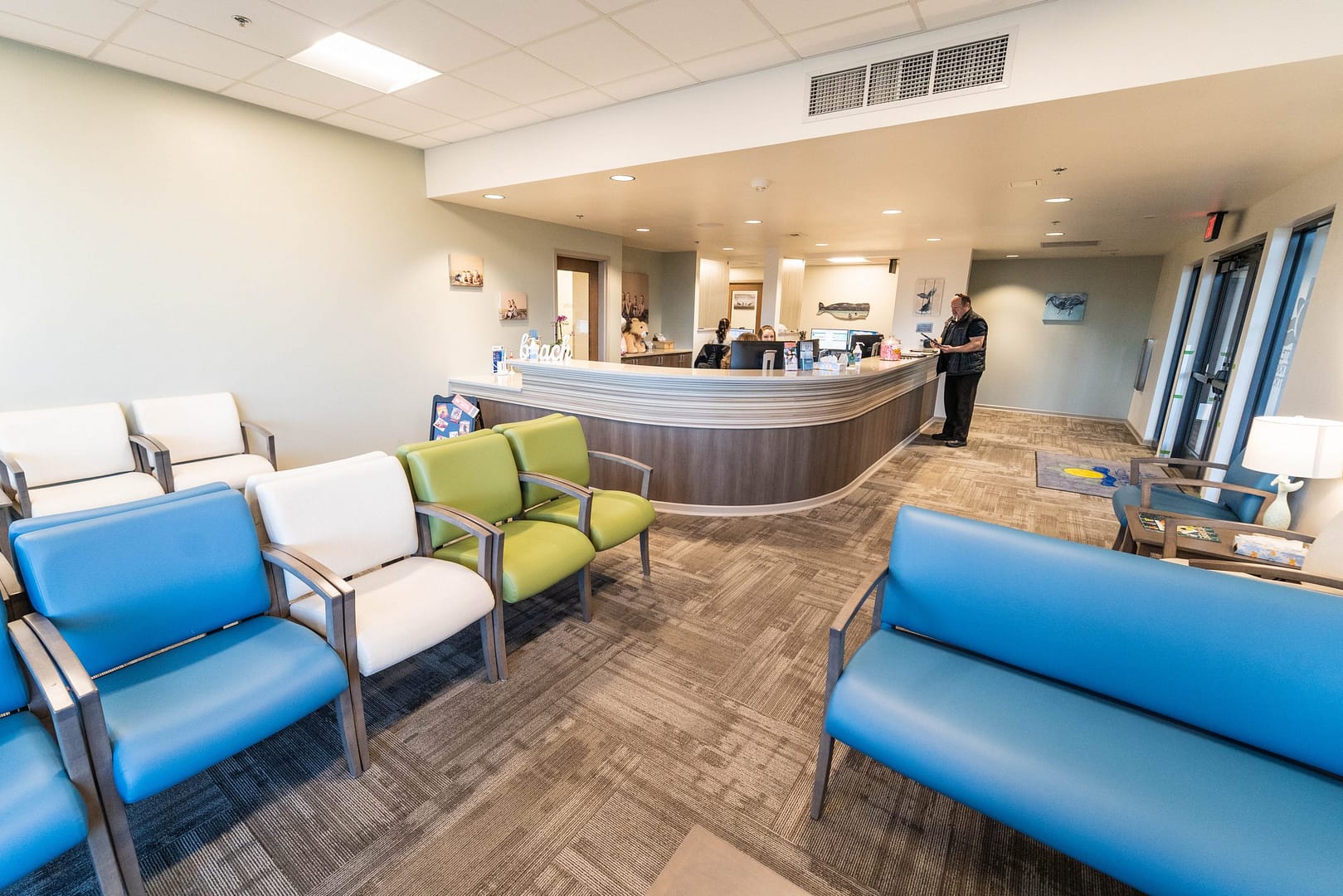 "When we select top brands like Symetrix, we're giving the customer something that's going to last a really long time. Symetrix stands behind their products and they're built to last," said Sprando.
For Deschutes Pediatric Dentistry, the office was split into thirteen zones — 12 patient stations, and the lobby. A Symetrix Edge DSP with a 4-channel Input card was selected to provide all audio routing, source selection, equalization, and dynamic audio processing for the system. The Edge natively supports Dante networked audio and all Dante routing can be configured by Symetrix Composer™ software without the need for additional software such as Dante Controller. This greatly simplified the setup of the system and made for a perfect match with the Dante based speaker system.
A Symetrix ARC-K1e with a push-button rotary encoder provides simple control of volume for the lobby background music system while the 8-segment LED on the ARC-K1e provides instant feedback of the audio level. The ARC-K1e is easily configured with Symetrix's ComposerTM software and connects to the Edge DSP via a single Cat 5 cable.
"Symetrix has been my go-to for years," said Sprando. "The seamless integration and support when I need it has been great. Things just don't go wrong with Symetrix. I utilized Dante for this project which Symetrix has demonstrated a strength in supporting."
In each of the 12 patient stations, a ceiling-mounted 32" display from LG and AS-1681 "Audio Spotlight" speakers from Holosonics were installed for optimal patient experience. The ceiling-mounted displays were placed slightly farther back than normal to allow the patients head to go back and the mouth to open naturally while watching.
This completely wireless solution allows the doctors to focus solely on their work. Being able to sit a patient down and start working immediately, without touching any electronics, was critical in this project and AV Bend delivered.
Down the hall from the patient stations, the lobby hosts an Iadea MBR-1100 wireless media player
and a 65" LG display for digital signage to show off testimonials, finished work, and educational information. Background music and a videogame station for those waiting to be seen are also provided.
The overall patient experience at Deschutes Pediatric Dentistry was the top priority for this job, and Sprando and the AV Bend team delivered on their promise. The doctors and staff at Deschutes Pediatric Dentistry could not be happier.
"Audio Visual Bend exceeded my expectations of what was possible," said Dr. Steve Christensen. "My office has complex AV needs and they were able to design a system that fit my needs and install with a beautiful fit and finish."
Sprando concludes by saying, "It's the ease of use, integration, customization, and customer support of Symetrix that stands out. If we need anything, it's immediately solved. If it's a phone call or TeamViewer session — we just don't have a delay in the installation process with Symetrix. It's a non-issue."
For more information about Symetrix, please visit www.symetrix.co.
For more information on Audio Visual Bend, please visit https://www.avbend.com/
For more information on Deschutes Pediatric Dentistry, please visit http://deschuteskids.com/