Tinley Park, IL — July 2020… Located inside the Jack E. Caveney Innovation Center in Tinley Park, IL, the Panduit Experience Center is an immersive customer meeting space showcasing Panduit's unwavering commitment to research and development, product design, and engineering excellence in network infrastructure and industrial electrical infrastructure.
With Panduit's strategic acquisition of AV manufacturer Atlona in 2019, the company was now able to demonstrate the power of delivering converged applications over structured cabling. This also gave the company the opportunity to upgrade its existing AV infrastructure to a state-of the-art-system.
With a mix of in-person and remote customers attending the strategic customer briefings, Panduit needed their Experience Center to have an audio system that could incorporate several important requirements. It had to be easy to use, be comprised of different sources for guests to easily choose from, and have the ability to host video conferences while being able to appropriately hear and send audio across the conference bridge.
Panduit's Product Manager of Enterprise AV, Mike Novak, confidently chose the Symetrix Radius NX 12×8 AEC-2 with VoIP card to filter out background noise and manage the AEC needs of the system.
"The space itself houses live IT equipment," said Novak. "For a conference room, it's fairly unconventional, with lots of background noise. The Radius NX gave us the ability to roll off high frequency fan noise when using the room mics for audio conferencing."
With a single Radius NX 12×8 AEC-2, Novak was able to address all of the processing needs for the space. The Radius NX processors are equipped with 128 (64×64) channel redundant Dante for audio networking over IP. The dual-core coprocessor provides up to 16 channels of full bandwidth AEC with unparalleled clarity and intelligibility and enables soft-codec conferencing and computer-based multitrack recording or playback.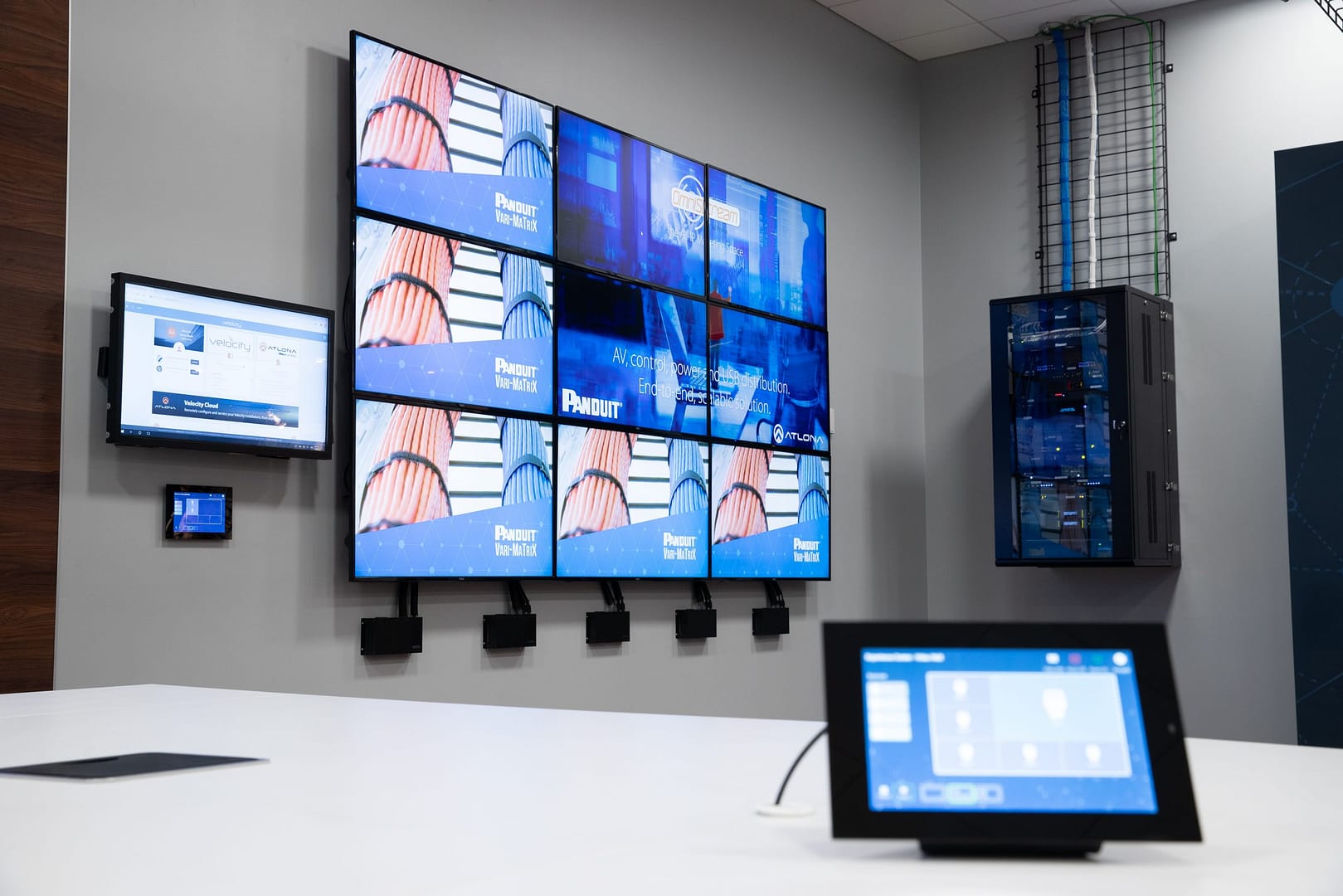 "Integrating the Symetrix DSP with the Atlona Velocity Control System was a key element of this design. The ease in which we're able to accomplish that really made the whole implementation easy," said Novak.
"With the filters in the Radius DSP, knocking out some of the high-frequency fan noise without killing voice quality proved to be very useful", said Nick Bethard, Senior Sales Engineer with Atlona.
The level of clarity during conference calls after installing the Radius NX, made a night and day difference in sound quality. The ability to cancel background noise and create a system that's easy to use made the Panduit Experience Center's system upgrade a true AV success.
"Symetrix is laser focused on DSPs and has the ability to keep up with the trends and pivot as needed," said Bethard. "It's a good product and it made this project a success."