Fuzhou, China-July 2019… One of the world's fastest-growing cities, Fuzhou is the capital of China's Fujian province. The design of the city's spectacular new Fuzhou Strait Culture and Art Centre, by Finnish architecture master Pekka Salminen of PES-Architects, was inspired by the five petals of a jasmine blossom, the city flower of Fuzhou. Each "petal" is a separate building-a multi-function theater, 1,600-seat opera house, 1,000-seat concert hall, art exhibition hall, and movie center-all covered by massive white steel lattices and linked by a Cultural Concourse and large roof terrace. The result is a masterpiece that blends harmoniously with the adjacent Minjiang River and is sometimes compared to the famous Sydney Opera House in Australia.
The multi-function theater is a three-layer auditorium seating more than 700, with walls covered by CNC-cut, solid bamboo blocks in shapes that conform to both acoustic and visual language requirements, simultaneously reflecting and diffusing sound and enhancing desirable sound reflections to the audience. Shenzhen EZpro Sound & Light Technology was brought in to design and install a first-class sound system for this world-class space.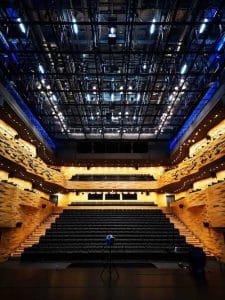 EAW JFL213 two-way full-range line arrays, mounted left and right of the stage, comprise the main front-of-house system. Four EAW MK Series passive two-way full-range loudspeakers are mounted on the sidewalls of the apron, while multiple EAW CR72z Cinema Surround Monitors serve as fills around the audience area.
To manage the system, EZPro chose a Symetrix Jupiter 4 audio DSP, which offers four analog inputs and four analog outputs. As with other Symetrix processors, the Jupiter offers a wealth of dynamics processors, EQs, FIR filters, and other processing. Thanks to 85 turnkey apps, it's very easy to set up mixing, routing, crossovers for sound reinforcement, loudspeaker management, and more. An embedded web server hosts Symetrix' ARC-WEB browser-based interface for smartphones, tablets, and computers.
"We chose the Jupiter 4 due to its incomparable flexibility, 4×4 input and output control, and optimized audio solutions apps for specific venues and systems," explains EZPro Senior Marketing Manager Mei Hong. "The audio quality is superb, as we have come to expect from Symetrix. Another reason we chose Symetrix is that the Fuzhou Strait Culture and Art Centre is an extremely important and prestigious venue where system failure is not an option, and we knew we could count on the Jupiter to perform reliably for years to come."