Washington, D.C.- August 2019… Patrons at Walters Sports Bar, located directly across street from Nationals Stadium, know better than to ask for Walter. The popular new restaurant and bar is named for legendary Washington Senators baseball star Walter Johnson, who hasn't quaffed a beer since 1946. But they do enjoy the more than two dozen beers on tap and food ranging from pub classics like burgers and wings to seafood, steaks, and vegetarian dishes, while watching Nationals baseball, Capitals hockey, Redskins football, and more on a 220-inch 4K Samsung LCD display.
To ensure the audio and video systems would be first rate, Walters tapped D.C.-based AV systems integrator ITI Systems, co-owned by Bill McClure and Adam Weiner, which has provided AV solutions for Fortune 500 firms, federal agencies, financial institutions, and elite universities. ITI installed the big LCD display as the centerpiece of the video system. For the audio system, the firm designed and installed a Dante network managed by a Symetrix Prism 0x0 DSP.
The audio network offers a choice of two sources, fed to six output zones indoors, with individual level control, and two output zones for the dog-friendly outdoor patio. All zones receive the same input source. The primary sources are DirecTV, which supplies sports programming and background music, and a series of Attero Tech Dante-enabled wall panels, which can accommodate input from a DJ, a sports guest or other speaker, and even live music and trivia, should Walters Sports Bar decide to add those in the future.
"This was a completely new built-out into what had been an empty retail space," notes McClure. "We had worked on a large sports bar for the owner many years ago, and we knew him from contacts in the entertainment business when we were doing concerts, recording studios, and so on. When he got this opportunity, he called us. We started working on the project about a year ago."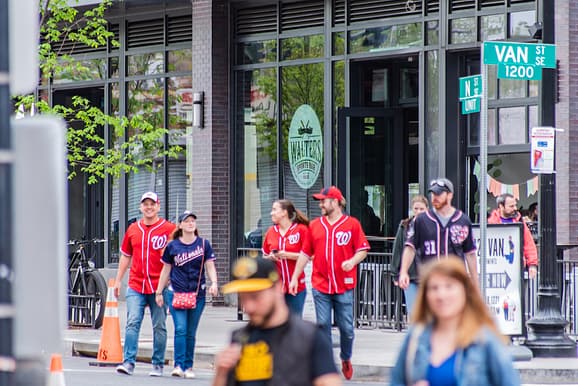 "If we approached the audio matrixing with a traditional system, we would have to convert HDMI audio to analog, then go into the DSP, and then convert back to digital, and we would use a traditional matrix switcher," Weiner offers. "Instead, at Walters, we used a Crestron DM-NVX352 Dante-enabled AV-over-IP streaming encoder/decoder to transcode the embedded HDMI audio signal directly to Dante and sent it to the Symetrix Prism 0x0, without having to convert to analog. In various zones throughout the bar, we provided Attero Tech unD6IO-BT wall plates that put Bluetooth audio input on the Dante network and unDX4I wall plates that convert analog audio input to Dante." ITI provided Crestron touch panels for source switching and level control.
On the output side, the Prism 0x0 sends Dante audio to the power amplifiers. "We're using Linea Research 88C06 and 44C06 power amplifiers, which are Dante-enabled," recounts Weiner. "So the audio signal stays in the digital domain from the time it enters the building or you plug into a wall plate, all the way until it goes from the amps to the Martin loudspeakers. We used the Martin loudspeaker management presets that are pre-programmed in the Linea Research amps, and we did all the EQ and zoning with the Symetrix Prism 0x0. The use of the Prism 0x0 is exciting for us because everything is integrated seamlessly on a single network. We did not pull a single analog cable in this space except the speaker cables; everything is on a CAT6a network cable. It's the first time we've been able to do that."
Weiner cites many advantages to the all-Dante, Symetrix-based system. "With the Symetrix Prism 0x0, you have the quality of the Symetrix EQ algorithms. We're getting great filters, and we can leave out the analog conversion and give our client the ability to matrix up to 64×64 Dante audio channels, all at a great price, and still have it sound phenomenal. Symetrix Composer software is really intuitive, and the Crestron programmers like that you can give the controls sensible names, unlike some other systems."
Audio quality was another important reason that McClure and Weiner chose Symetrix. "We came from a music background; the company started out primarily doing music venue installs," recalls Weiner. "I was a touring front-of-house engineer for years. In the corporate space, selecting a DSP is primarily about features, rather than audio quality-but we care a lot about audio quality. There is a difference between the way different DSPs sound, and we feel Symetrix makes an excellent sounding DSP, so when we choose a DSP based on audio quality, we prefer Symetrix. Symetrix, Martin Audio, and Linea Research are companies that care about audio quality and have developed products that fit together in a way that allows us to give our customer a lot of routing functionality and a lot of preservation of signal quality."
"We were happy to do this type of system for Walters Sports Bar," concludes McClure. "Keeping the audio digital from end to end is something we've wanted to do for a long time. Having this opportunity at an excellent venue right by the stadium, owned by someone we've known for years who wanted high-quality AV-it was a great fit. The AV system is up and working, full steam ahead, and they're very happy with it. They got a lot more than they thought they were going to get, and they're pretty excited about that."