The rise of the hybrid meeting has seen new technology demands placed on every type of organization. The necessity of remote meetings created by pandemic lockdowns has turned into an expectation as more people embrace the flexibility of being able to join a meeting from anywhere. For some, the technology required to deliver this kind of meeting has created its own challenges, but for organizations like the District 20 School Board in Colorado Springs, Colorado, the right equipment has helped to enhance the experience.
The school board moved to remote meetings via Microsoft Teams during the pandemic which allowed their community to still engage with the process. However, this experience revealed that their in-room systems were not up to the task.
"They came to us to solve their problems with feedback issues, control issues, and stream failures," said Ryan Durbin, Owner and Integration and Sales Specialist at Lambda Audio Visual. "The place we began was the control system. We knew exactly what equipment we wanted to use."
The first choice for Ryan and the Lambda Audio Visual team was Symetrix. "We love Symetrix control systems because they provide an ease of use and flexibility of design that is unmatched," he said.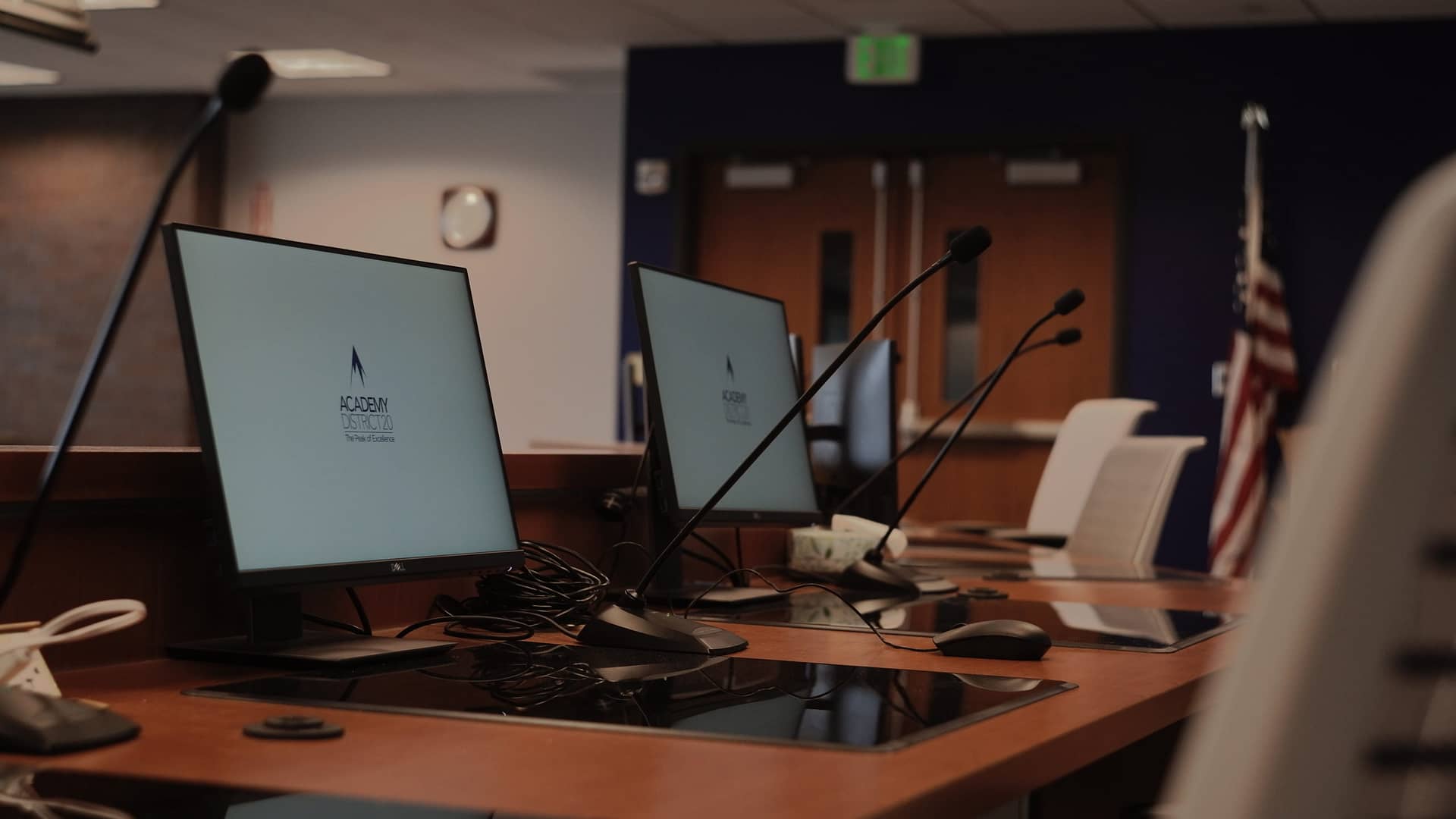 "The school board room had a fairly large number of inputs we needed to work with including nine board members, eight cabinet members, a lecture mic for community members, and eight wireless mics," Ryan said. "This is a lot of audio for a small space especially when they wanted local reinforcement over ceiling speakers and to be able to tie in to a live event feed for public streaming, and add remote callers. Symetrix allowed us to take a modular approach and break the audio into three major areas: the board desk, the District 20 cabinet member desk, and the rack/wireless area."
A further challenge arose as the result of global supply issues for Dante chipsets. "Originally we had looked at using one Symetrix processor and two Dante expanders wired remotely but with Dante chip shortages this quickly became an issue," he said. "Symetrix, though, had our back and released non-Dante versions of their processors quickly allowing us to tweak the design and use analog connections instead."
With new products to select from, Lambda Audio Visual decided the best solution for this project was a Symetrix Radius 12×8 fixed I/O, open-architecture digital signal processor with dual AEC coprocessor and a four-channel analog input expander. This was combined with a Symetrix Prism 12×12 DSP with 12 analog inputs and outputs and a Prism 8×8 DSP with eight analog inputs and outputs. Finally, a T-10 Glass touchscreen with table mount provided intuitive front-end control.
"The two Prism DSP units are mounted one at each desk as auto mixers and EQ, sending their mixdown to the Radius DSP unit, bringing together the two remote units as well as local audio I/O to Teams and wireless mic I/O," Ryan said. "Auto mixers are amazing and the Symetrix modules did not disappoint in their ability to control gain structure for a large amount of open mics with virtually no adjustments, and even detect and remove feedback from within the room."
Lambda Audio Visual decided to combine the Symetrix audio solution with a video-over-IP system from Visionary Solutions. "Symetrix and Visionary communicate using a built-in API, which let us control all of the video options in a user-friendly interface," he noted. "This allowed us to have everything controllable from one place and even include on-screen previews of what is being sent to each of the two TVs on the walls for main audience viewing or Microsoft Teams."
To design the user interface, Lambda Audio Visual's Trevor Fisk, Shop Manager and Install Lead, and Matt Waresak, Install Tech and Control Systems Engineer, turned to Symetrix's Composer™ 8.3 software. "I approached designing the initial sketch up of the D20 with the mindset of operating it myself," recalled Trevor. "I have done a fair bit of running multiple systems as a single operator, so I wanted to make it super simple and intuitive, but also to have control over the whole system. The entire control system is no more than two button presses away, with most of it being one button away. Also, I really like the ability to run the majority of a show from one control screen, so we built that functionality into this system as well. I built out what I thought would be the 'dream system' and then Matt was able to take that vision and build out what the system was able to accomplish and make it look and feel great!"
"Control systems user interfaces can often feel archaic and a far cry from the streamlined interfaces and apps most consumers are familiar with," Matt said. "We wanted to move away from that older style and provide a control interface that felt clean and intuitive to operate while not sacrificing any capabilities. Symetrix's Composer software enabled us to fulfill those goals and gave us the tools and infrastructure on which to build our design interface. Most of the layout and menu formatting stayed relatively unchanged from the initial wireframes created by Trevor, with just a few adjustments in the design. The main menu shifted from along the bottom to the side to give it slightly more prominence in the design and aid in navigation. We structured the menu in a top to bottom format, with the most frequently used sections at the top and cascading downward. We then moved on to more in-depth mockups from the rough wireframes, giving us a solid starting point to work with as we built and integrated our design elements with the controls in Composer. As the interface developed, we made additional minor changes to ensure the placement of the controls not only made logical sense but functioned smoothly in practicality."
This user-friendly interface is accessed via the T-10 Glass touchscreen with its 10.1-inch, 1920×1200 display. Thanks to its functionality, this recently-released touchscreen became the obvious choice for Lambda Audio Visual. "The T-10 Glass was able to offer us the large display the school board required for meeting control," Ryan said. "It is also easy to use and offers high reliability compared to a computer."
With the solution installed and in regular use, Ryan has been impressed by the outcome. "We love the final result as it's easy to use and works time after time with no issues," he reflected. "The client loves the reliability and flexibility of the system and comments regularly on the clarity of the audio and auto mixer. It's a system that should last for years to come."