White Paper Title
Audio System Requirement
4 zones, each with stereo BGM (background music) and wall panel controllers for source selec on/volume control.
Support for mobile device control of source selec on/volume control in each zone.
Two remotely located page microphones connected to a single DSP processor via a DanteTM network.
Page zone selec on using a 4-bu on wall panel at each page sta on loca on.
Programmable automa c page over music "ducking" of BGM in all zones.
Ambient noise controlled automa c music volume adjustment in each zone.
Secure super-user Windows® control screen located in the managers o ce.
Audio system MUTE ALL func on triggered from a re/emergency alarm system.
Comprehensive loudspeaker management in all four zones to include parametric EQ, high and low pass 48dB/octave lter, comp/liming, delay, and mute.
Symetrix Components
| QTY | Description | Given Value |
| --- | --- | --- |
| 2 | Radius 12×8 EX | 12 mic/line in, 8 line out DSP (uses Dante network for expansion). |
| 2 | Radius 12×8 EX | 12 mic/line in, 8 line out DSP (uses Dante network for expansion). |
| 2 | Radius 12×8 EX | 12 mic/line in, 8 line out DSP (uses Dante network for expansion). |
| 2 | Radius 12×8 EX | 12 mic/line in, 8 line out DSP (uses Dante network for expansion). |
| 2 | Radius 12×8 EX | 12 mic/line in, 8 line out DSP (uses Dante network for expansion). |
| 2 | Radius 12×8 EX | 12 mic/line in, 8 line out DSP (uses Dante network for expansion). |
| 2 | Radius 12×8 EX | 12 mic/line in, 8 line out DSP (uses Dante network for expansion). |
| 2 | Radius 12×8 EX | 12 mic/line in, 8 line out DSP (uses Dante network for expansion). |
Solution Overview
| Requirement | Notes |
| --- | --- |
| BGM selec on and volume control | An ARC-3 wall panel is installed in each of the four zones. |
| BGM selec on and volume control | An ARC-3 wall panel is installed in each of the four zones. |
| BGM selec on and volume control | An ARC-3 wall panel is installed in each of the four zones. |
| BGM selec on and volume control | An ARC-3 wall panel is installed in each of the four zones. |
| BGM selec on and volume control | An ARC-3 wall panel is installed in each of the four zones. |
| BGM selec on and volume control | An ARC-3 wall panel is installed in each of the four zones. |
| BGM selec on and volume control | An ARC-3 wall panel is installed in each of the four zones. |
| BGM selec on and volume control | An ARC-3 wall panel is installed in each of the four zones. |
| BGM selec on and volume control | An ARC-3 wall panel is installed in each of the four zones. |
Products Used
Applications Used
System Hookup Diagram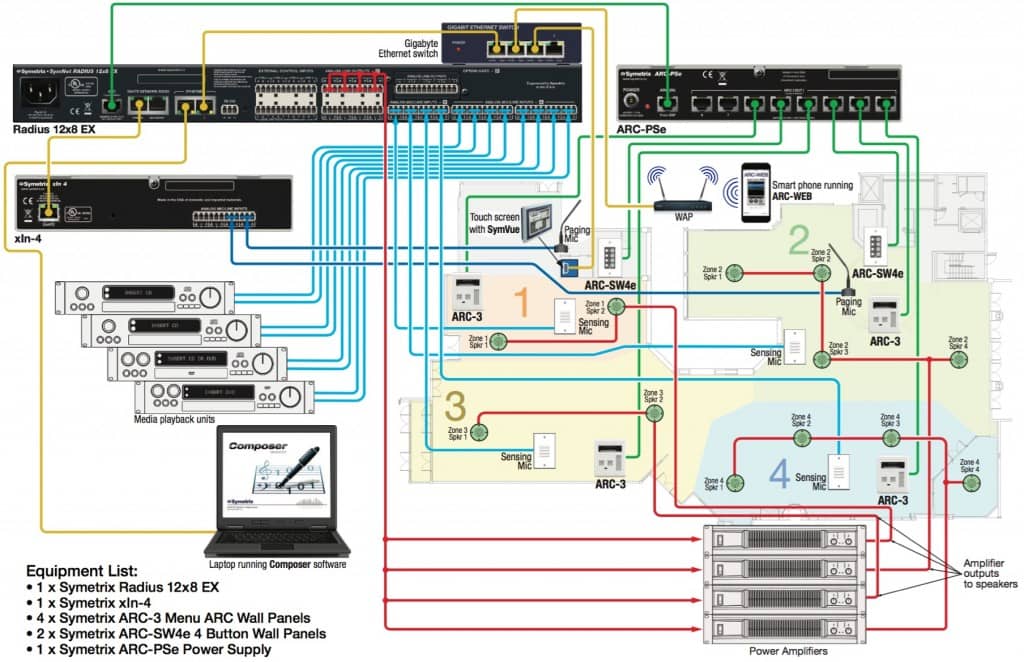 Downloads and Links
Four Zone Casino – Composer Site File
Four Zone Casino – SymVue Windows Executable
Questions? / Comments? – Symetrix Tech Support